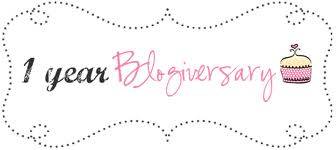 One year ago from today, I sat on a bright yellow turned rusty lounge chair in Harvard Yard, creating what I thought was just a class project. It turns out that Style Solutions became more than that: it became my job, and my passion. I'm very excited to announce that today is Style Solutions' 1 year blogiversary!
Creating Style Solutions has been a crazy door-opener for me, leading to great opportunities that I would have never expected. I've sat front row at Mercedes-Benz Fashion Week, I've met and interviewed a fabulous roster of celebrities, designers, stylists, and authors, I've attended and covered fun parties, I've met a community of bloggers that I adore so much, and mostly importantly, I have found myself as a writer (or should I say Blogger!).
I started out with about 5 viewers (if I was lucky). Now, there is a much nicer number with lots of zeros at the end of it! Last night, I spent some time reminiscing on last summer, and how much Style Solutions has evolved since I started it while taking journalism classes at Harvard University. I've written over 400 posts, yet I never have a lack of things to say!
Below are 10 of my favorite blog posts from the past year that I've come across while reading my way through memory lane.
1. Summer Collegiate Fashion
2. Evening of Smiles Event
3. Cool Store On The Block
4. Sydney Meets Patricia Field
5. Ten Fashion New Year Resolutions
6. My First Fashion Week Experience
7. What Sydney's Wearing In Palm Beach
9. Sydney Interviews Shoshanna Gruss
10. Sydney Hangs Out With Natasha Bedingfield
Thank you to all of my amazing viewers who inspire me to blog daily! I can't wait for you to see what's to come in the future!
With Style,
S