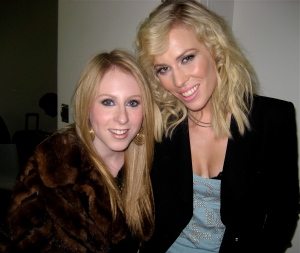 Last night, I had the privilege of attending the Boy Meets Girl fashion show. Since this was an evening show, I wanted to look a little more bold than when I go to daytime shows. For my birthday, my girlfriends got me a gift card to the John Barrett Salon at Bergdorf Goodman. This was the perfect time to use it, so I got a blowout, sipped on a foamy cappuccino, and took advantage of being able to relax. After my hair, I ran home to change. I fashioned leather-looking leggings, a crochet BCBG tunic, my BCBG wedges that I blogged about a few days ago, gold hanging earrings, my Balenciaga purse, plus some more jewelry.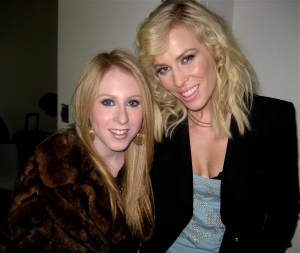 After a quick change, I ran to the Trish McEvoy counter at Bloomingdales where my favorite makeup artist, Billy Mercer, gave me the ultimate smokey eye (he's the best!) As I was walking into the building where the show took place, I bumped into Andy Cohen from Watch What Happens Live! , who accidentally came into the wrong show: right before he walked by I went up to him, introduced myself, and gave him my card (so sweet: maybe not so much of an accident?).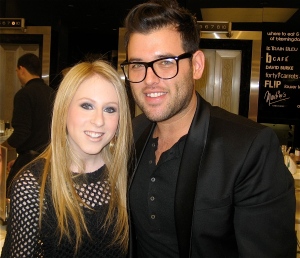 Thanks to my amazing friend Ellen, I was able to meet and hang out with Natasha Bedingfield. After Natasha's fabulous performance and the runway show, I got to go backstage and meet Natasha in her dressing room. We chatted for quite some time, and she loved my fur coat. She is super sweet and we talked about my blog, fashion, her music, etc. After talking, Natasha had to change for the Boy Meets Girl after party at Avenue, so Ellen and I decided to meet her and her team there. As I was leaving the backstage area, I came across singer Kat Deluna and chatted with her as well: Twitter friends!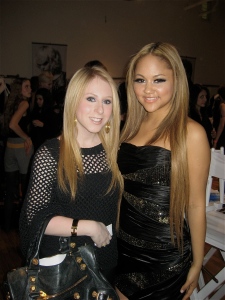 As I was literally walking out the door, I came across the The Veronicas, who were so adorable and sweet: I'm also a big fan of their music! When Ellen and I finally arrived at Avenue, we were seated at Natasha's VIP table where I got to spend the evening with Natasha and her team which was so much fun: she's so down to earth and sweet. The music was amazing, everyone was dancing, and all eyes were on us. I had an amazing night -from the fashion, to the people, to the music- and I am so excited that I've been able to attend such cool shows and network with such great people.