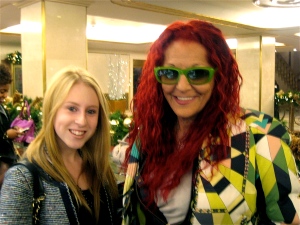 It might have been absolutely freezing outside, but that didn't stop me from attending the launch party of Patricia Field's – the stylist for Sex & The City 2 – new limited edition handbag line for MCM this afternoon. The launch party took place at the MCM Boutique at The Shops At The Plaza Hotel. I'm not a huge fan of the shopping center at the Plaza for two reasons. One: I don't think it's necessary to have a mini mall when NYC is the biggest "mall" in the country. Two: it takes the classic charm away from this New York City landmark. However, meeting Patricia was worth it.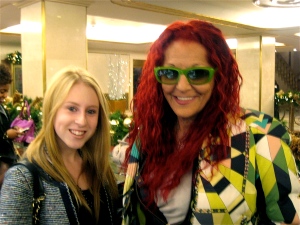 If you're a Sex & The City 2 fashion-fan like me, you know how excited I was to meet this fashion legend. Patricia's line for MCM gave the company's handbags the edgy twist that it most certainly needed: whether it be the color, design, or studs on some of the handles.
I talked to Patricia for fifteen minutes -who looked very cool with her adorable Pucci winter coat- and she asked what my opinion was of the bags: if I thought they would appeal to my readers, if I liked the look, etc. I feel that the line has a cool, artsy, and chic look. It's for the girl that wants an everyday bag that is stylish, wearable, and big enough – yet not too big – for her daily necessities. I also think that it's classic (although fun and colorful) and is not too out there and looks simple yet elegant.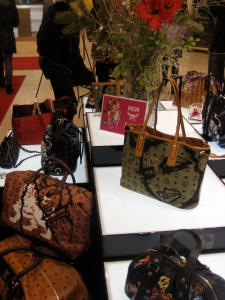 Beyonce was just seen wearing my favorite bag of the collection which is called the 'Reversible Shopper Tote' – love the color, design: everything. Although the collection is expensive – handbags start at $550 – it is a luxury brand and the bags are less expensive than (for example) Goyard totes which have the similar aesthetic.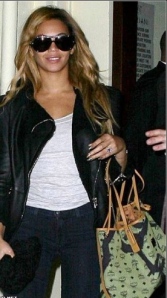 This line is limited edition, so it's a great gift to purchase for the holidays if you want to splurge on something that is more unique. Meeting Patricia was a pleasure: she's fashion forward, a fashion icon, and an inspiration to fashion-lovers like me. Check out her collection at the MCM Boutique at the Shops At The Plaza or on PatriciaField.com