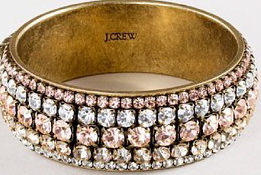 It's time to shimmer up your wrist for the holidays with a very chic and glamorous bangle from J.Crew. I am a big fan of J.Crew because although the store is a chain, it doesn't sell items that you can directly recognize its brand. The items sold at J.Crew are always on trend, chic, colorful, and are usually very well priced. I highly recommend J.Crew for both men and women. One of my favorite things that J.Crew sells is jewelry – bracelets in particular.
J.Crew is a perfect store to do some holiday shopping in. Not to mention, a great store to buy a bracelet for a holiday present in. J.Crew came out with an 'Isis Bangle' that is so glamorous and fun that it will command all eyes on you. The brass bangle is decked out with colorful crystals – gossamer peach – with a plated brass chain that gives the bracelet some edge – love the color.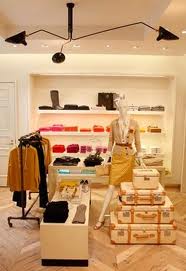 Not only will this bangle look great during a snowy winter, but when you're getting some sun in a warm place too. The bangle will look its best when the outfit is a little toned down since the crystals are pretty overpowering. I would recommend staying with nude, peach, white, and black.
Here's a plus: the bangle is on sale. Originally sold for $78, this bangle is now available for $55. Check this bangle out on JCrew.com, and you'll be sure to get the perfect gift.