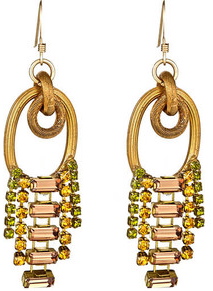 It's all about citrus this summer: oranges, lemons, and limes. How did these citrusy shades -orange, yellow, and green- come about to being a hot trend this season? Maybe it's the urge to feel like you're vacationing on a tropical island, or the urge to find yourself a fun and girly color that isn't so predictable, like pink. Or maybe it's the influence of the 1970s. Which ever reason it may be, I'm loving the citrus trend, and it's not just because I'm a huge fan of lemonade, limeade and orangeade.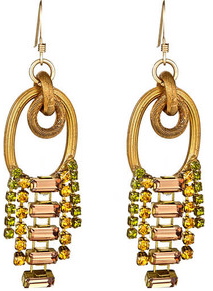 Orange, yellow, and green are fun, bright, and bold colors. They are this season's pops of color, and are incorporated into clothing, shoes, accessories, and beauty products. Stella McCartney used citrus shades for her line of spring/summer clothes, while Chanel used citrus shades for its line of summer nail polish.
Incorporating some form of citrus -be it solids or patterns- in your summer wardrobe is key, so why not start off with a citrusy accessory? Annie Harmer just came out with a fabulously glamorous 'Green and Citrus Triple Hoop Earring'. The earrings have an extremely luxurious and high-end look with their sparkling rows of green, citrine, and amber-colored Swarovski crystals in different lengths and shapes, dangling ever-so-beautifully.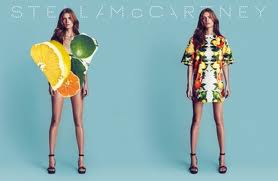 The earrings can dress up a casual look to perfection by being an accent, but not being too overpowering. Wear these beauties with a fun pair of orange jeans (good bye blues), a beige cropped blouse, nude and wooden wedges, a nude tote, and nude/black sunglasses. For makeup, give yourself a shimmering nude (tinted with a little orange) lip, and paint your nails lime green.
The Annie Hammer earrings are available on MaxandChloe.com for $100.