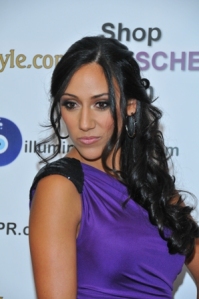 If you are a fan of The Real Housewives reality series, then you are most certainly excited for this evening's season premiere of The Real Housewives of New Jersey. Two housewives are out -we lost Dina Manzo last season, and now we (unsurprisingly) lost Danielle Staub this season- but don't worry, because there are two new cast members -Melissa Gorga and Kathy Wakile- that are joining this crazy, fun, dramatic, and addicting Season 3 that won't make us miss the NJ "alumnus".
Read on Real Housewives of New Jersey fans and Style Solutions readers, because I had the pleasure of interviewing the show's newest, youngest, and most fashionable housewife, Melissa Gorga, for Style Solutions. Gorga is a sassy and fun mom, wife, and recording artist. Check out my interview with Melissa below.
S: As a new real housewife, what are three things everyone should know about you?
M: The first thing that comes to mind is that my family always comes first. I always tell it like it is, and I have nothing to hide. I absolutely love music, it has always been my first love.
S: How would you describe your personal style?
M: I am very confident in what I wear and when dressing myself. I am not that girl who takes forever to make a decision in the closet. I know what I like and I know what looks good on me.
S: How do you accomplish being a fashionable recording artist, mom, and wife at the same time?
M: It's not easy. It's my biggest challenge right now, and I am trying to make it all work. I am extremely passionate about all three (my biggest obstacle is juggling all of them), but I am a strong person and know I can make it work.
S: What is your favorite item in your closet?
M: Right now it's my Max Azria romper.
S: Where can you be found shopping most and why?
M: New Jersey is the land of boutiques. It would be so difficult to just pick one as they all offer something different, so it depends on my mood and what I am looking for.
A big thanks to Melissa, and I look forward to kicking off my week with the 90 minute season premiere of The Real Housewives of New Jersey this evening. Check out the season premiere tonight on Bravo at 9/8c.