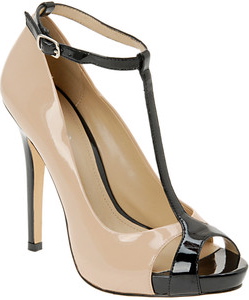 On this Sunday evening, I'm sitting at home with a piece of rhubarb pie, and a notebook, writing down what I need to do this week. I just looked up the weather, and I'm a bit shocked, and disappointed, to say that it is supposed to rain in NYC until a week from Tuesday. That is one long Spring shower.
When it rains, you'll mostly spot me in either my Hunter Boots or my neon orange Nike sneakers, unless my plans require a fancier shoe. Even though I probably won't be wearing a pair of pumps in the next couple of days, that doesn't stop me from admiring some eye-grabbing pairs online.
While browsing Aldo's website a few hours ago, I came across a fun yet sophisticated shoe that will look great for Spring (the less rainy ones) and Summer evenings. Vanliere is a glorious 4 inch heel patent peep-toe pump in nude and black with a slim t-strap, giving you a flattering silhouette. Ankle straps are extremely flattering with dresses, skirts, and shorts -anything that shows legs-, so try avoiding pants when wearing these shoes.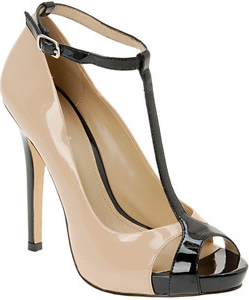 I love the color combo of the pumps, and I think it would look elegant and chic to try to continue to the color combo throughout the rest of your outfit. The pumps will look great with a nude and black lace short-sleeve blouse, black dress shorts, a black patent leather clutch with a bow for a flirty touch, and black and gold long hanging earrings. Also, give yourself a dramatic eye by extending your eyelashes to their longest ability with some intense mascara, and give yourself a bold nude lip.
The Vanliere pumps are available on Aldo.com for $80.