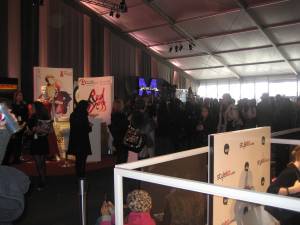 Walking into the Mercedes Benz Fashion Week tent at Lincoln Center gave me a rush of excitement. Two heavy doors led me to a large room full of fashion, beauty, food, and luxury stations like the AOL stylist station, where you could go on laptops and edit photos from the show you just watched, plus other company's stations like Maybelline and Pepsi.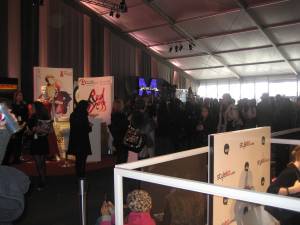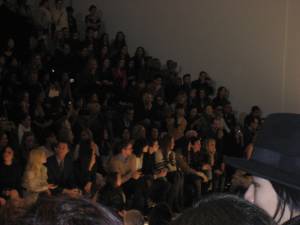 As I walked into The Stage, where the Jill Stuart show took place, I grabbed my camera, business cards, and got right down to business. I have never seen so much paparazzi in my entire life: living in New York City, I see them all of the time, but not so many all at once. Sitting in the front row was designer Liz Lang, stylist Brad Goreski, Americas Next Top model judge Nigel Barker, actress Olivia Munn, Nylon's Becka Diamond, singer Alexa Ray-Joel, actress Mena Suvari, and socialite/star of TV show High Society, Tinsley Mortimer, who I chatted and got a photo with.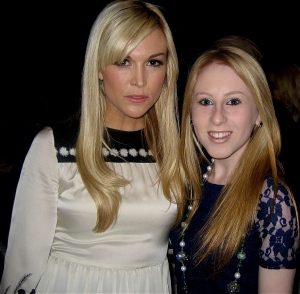 Everyone looked great, but I was most stunned by Tinsley's and Mena's outfits. Tinsley glowed in a white and black dress while Mena looked adorably colorful in a white dress pipped with blue, yellow, and pink. Here's what I wore: a navy-blue lace dress, a black boyfriend blazer, a chunky green, blue, pearl and crystal necklace, suede booties, a Balenciaga purse, my burgundy Louis Vuitton evidence sunglasses, and my vintage fur coat.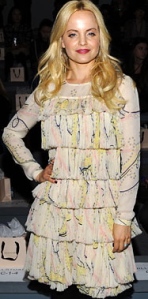 The show was short (I will be writing another post of what I thought about the looks – plus pictures), but the up-beat music, flashing of the cameras, fashion gurus, and gorgeous models fashioning the Jill Stuart collection made it a great show.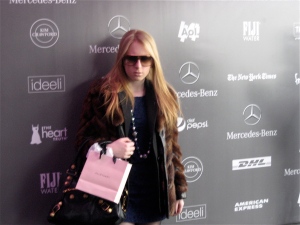 On each seat was a goodie bag to take home with two Jill Stuart beauty products: a jelly eye color, and a lip jewel. As I walked out of the show, I ran into some familiar faces, one being legendary designer Carolina Herrera, who looked elegant as always. I had a great time at the show, and be sure to keep checking out Style Solutions throughout the evening for more posts on the Jill Stuart Fall 2011 show. Tonight I'm going to the Regency Hotel for dinner and a performance by model and Lipstick Jungle Star, Brooke Shields: so excited!