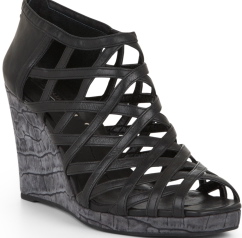 Tomorrow is the first of the shows that I will be attending during Fashion Week. I've dreamed of going to Fashion Week for so long now, and I am so happy to say that I'll be able to attend some shows. For the past couple of days, I've been figuring out what to wear to each show. The "fashion show known" is that you're supposed to wear the designer whose show you are attending. Being younger, I like to mix and match the designer whose show I am going to's pieces combined with pieces of my own.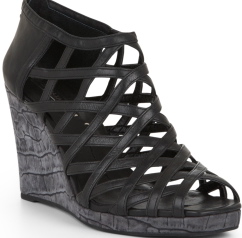 Today I finally set in stone what I am wearing to each show, and I will take photos on the days of the show of what I am wearing. For the show I am going to on Tuesday, which I am not going to announce until the day of since I think it's truly fabulous, I need to wear more of a spunky and cool outfit. This morning, I took a walk to the BCBG near my school, and picked out my outfit.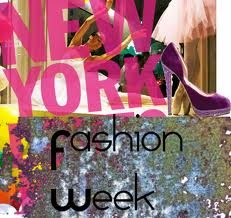 One of the items that I bought while at BCBG was not necessary, but definitely what I needed to finish off my look: it's the "Crocodile- Embossed Wedge Sandal". I know we are still in the middle of Winter, but when the shoes are on, they kind of look like a bootie, so I will be fashioning them with my outfit. The sleek suede with exotic detail (as said on BCBG.com) makes this wedge a must-have for this season's flourishing looks, and they will most certainly become an evening basic.
The shoe is open-toed, has criss-cross straps with cutouts, zip-back closure with a tassel, and a 4 inch heel with .5 platform. The shoe is chunky, fierce, and right on trend for the coming season, Spring. Keep your outfit strong and dark with leather-looking black leggings, an oversized sweater, hanging earrings, and a clutch. The shoe is available on BCBG.com for $185.
After checking out these adorable pair of wedges, make sure to follow me on Twitter @SydneySadick for live coverage during the Jill Stuart show tomorrow.