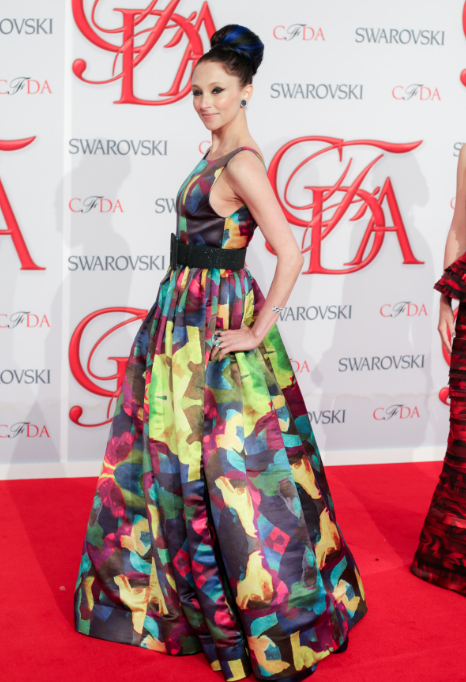 Native New Yorker, lover of pants, and color enthusiast, powerhouse designer Stacey Bendet has taken fashionistas by the storm with her ever-evolving brand Alice & Olivia. Consistently leading the trends with her clothes and shoes, Stacey has lots to share with Style Solutions. Read on, as Stacey's story includes her first Wall Street interview outfit, her summer plans and her growing success.
S: What's the significance in the name Alice & Olivia?
SB: Olivia is my mom and was always super chic!
S: How did your affiliation with industry powerhouse Andrew Rosen happen?
SB: I met him through a friend when I was building websites. He said he wasn't so into this internet thing, but he liked me and said I should stay in touch. When I started making pants, I invited him to our first show.
S: What types of pants were in your first line, a"just pants" collection?
SB: Crazy, fun, printed, embroidered, painted…only pants!
S: I hear you're quite the yogi!
SB: It's my sanity. It's personal, not professional. I practice ashtanga.
S: After studying at UPenn, you went for your first Wall Street interview in a creative outfit. Details!
SB: I hadn't graduated. I was a senior and I went to one of those "banker meet and greets." Only I was late and wearing a long floral print dress with a shearling coat. I put on my roller blades and skated there. Needless to say, I felt a little out of place amongst the suits. It was this weird lesson because as I looked around the room and saw grey and conservative everywhere, I just realized this is so not my world!
S: Now you have a daughter. I loved Eloise as a child myself, and it is adorable that you named your daughter after her. Is she your little Eloise?
SB: Yes! She told the flight attendant on our flight from LA to NYC that "I cannot have orange juice or champagne. I threw up in the car and when you throw up you really need to drink water, not orange juice or champagne!" I was like "OMG, you are right, Weez! Champagne would not be a good idea right now!" Yep, she is my Eloise!
S: You are now in hundreds of stores and have your own boutiques. What's next?
SB: We are in over 900 stores. Right now, our focus is really on our own retail store expansion in different cities around the world.
S: When did you decide to add shoes to the Alice & Olivia brand?
SB: I just felt like our clothes needed some friends…foot friends.
S: For the last two years, you have been on the Vanity Fair Best Dressed list. Please give Style Solutions readers a tip!
SB: Never be afraid of a little color!
S: What are you looking forward to doing this summer?
SB: Playing in Malibu with [husband] Eric and the girls!