Keeping your skin at its best, no matter how old you are, is extremely important. Skincare is one of my passions, and is second nature to me since both of my parents are in the business. Although I have a pretty standard skincare regimen, consisting of my father's Sadick Dermatology line, I am always up to trying new products. My new favorite? X Out: a new one-step anti-hassle and anti-breakout wash-in treatment designed specifically for teens.
X Out was designed to wash powerful, acne fighting medicine into the pores and leave it behind to treat blemishes and help kill the bacteria that causes breakouts. X Out™ helps banish existing pimples while nourishing skin with a unique moisturizing complex that helps leave the skin feeling smooth and looking healthy.

From the makers of Proactiv, this new one-step product is more than just any other product you have in your cabinet as it is completely digital savvy. X Out is the first acne brand with its own entertainment channel to help teens time the suggested two minute wash time of the product. You even have the ability to scan the product on your phone to go straight to the product's website for the day's "Daily Distraction".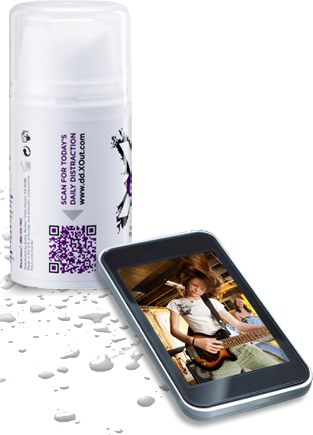 Scan it!
Instead of having multiple products clutter up your space, how about having just one with three ways of using it? The product can be used as a wash, a mask, and a spot treatment. I like using it best as a mask because I feel like I'm giving myself a mini facial.
So go on Xout.com, buy a product, and make your skincare routine more enjoyable and digital savvy!