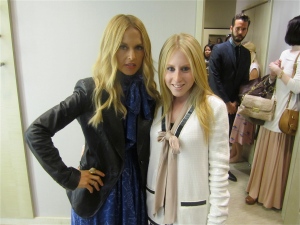 Hold the phone; this is major! Just two weeks after Super Saturday, where I met my favorite stylist Rachel Zoe, I got to see Rachel again, and this time, I got styled by her. How did this all happen? I got a text from Joseph, my salesperson at Saks, who told me that Rachel was coming in the next day for a special appearance with InStyle to style six women in her new line, The Rachel Zoe Collection, for its launch, and asked if I'd like to be one of them.
Obviously! This was not something to turn down, and it ended up being an experience of a lifetime. When walking into The Saks Fifth Avenue Club (a V.I.P area), I was escorted to a large dressing room full of The Rachel Zoe Collection, all in my size, including her shoes and handbags as well. Along with Rachel's collection were bright colored J Brand jeans to give my look a younger vibe. A few minutes later, I was told Rachel would be in my dressing room in five minutes (saying that I was excited is an understatement).
So there, a few minutes later, Rachel walks in my dressing room with a herd of people behind her; her team, and the InStyle team. She fashioned a stunning blue halter and matching maxi skirt from her upcoming resort collection with a fab black leather jacket and chunky cocktail ring. When Rachel came in, she was so nice and fun, and we first started talking about Super Saturday.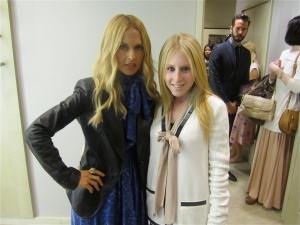 I realized that day why Rachel is so successful; she is incredibly knowledgeable and knows every trick to always looking chic. She was great at mixing and matching, and giving the background story of each of her pieces, and how I could incorporate them into my wardrobe. Rachel and I spent quite some time talking, about 15-20 minutes, and her team kept telling her she needed to move along, but we kept talking anyway. I asked her some questions such as if you're traveling to certain places like LA, which is much more casual than NYC, how do you achieve the right look? Rachel said to dress for yourself. It's really all just about the weather; some people just always wear black wherever they go, so it's just a matter of the right fabrics.

I ended up purchasing the white sequin jacket with black sequin trimming that she loved on me. It helped that when I arrived, I got a large goodie bag full of a $100 off gift card for her line, her book Style A To Zoe (which was signed), InStyle's September issue, her signature black velvet cosmetic case, and more.
What I learned most is that you get clothes with good design, silhouette, style, and color, but it's Rachel's magical way of mixing them together that gives you an amazing look. I had the best time, and I hope to run into Rachel at Fashion Week!