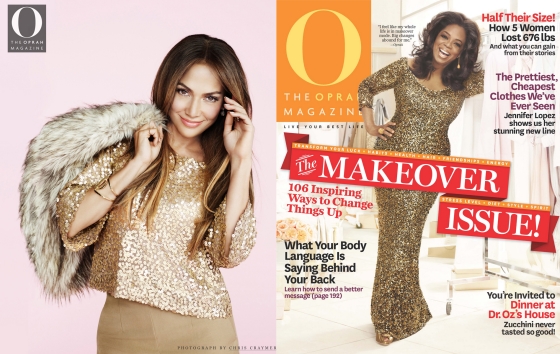 JLO is one busy woman. What can People's most beautiful girl in the world not do? JLO made her comeback this year as a judge on American Idol, and since then, her career has taken off more than ever. If there's one thing I didn't expect from JLO, it would be to launch a clothing line…but she is, and I'm quite curious about what you think about it.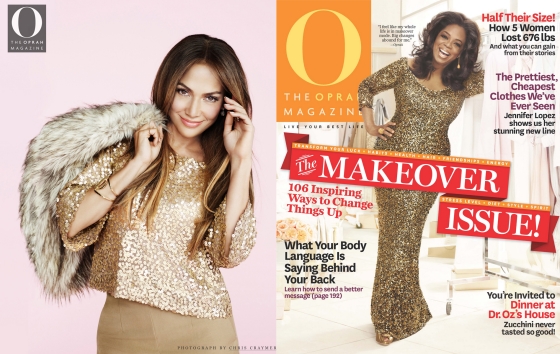 JLO, and her former hubby Marc Anthony (uh-oh), collaborated with Kohls to create an affordable clothing, accessories, and home line. O Magazine readers got a sneak peak of the line in The Makeover September Issue, which Oprah graced the cover of in a beautiful gold sequin embellished gown. JLO and O creative director Adam Glassman styled 8 O readers in her line for a spread.
I think the positive qualities of the line are its simplicity, elegance, and sophisticated vibe. I don't see women below their 30s being maybe quite as interested in the line as some older women may, mostly because it's conservative and the color pallet is basic. I do like the camel leggings with the zippers on the legs and the little fur jacket, both of which are easy pieces to have in your fall/winter wardrobe. It's almost like a go-to collection for your first job interview. I think JLO's outfit (the black romper) in the spread is the sexiest; a romper is always great with a pair of boots and a leather jacket for the colder months.
New York Magazine made a comment that I think is right on-target. "It looks like the line borrows a little from Rachel Zoe's penchant for fur accents and Kate Middleton's passion for sheath dresses." I wonder what Rachel Zoe thinks of the line.
Put it this way. I'm not going to be running out for this line; it just doesn't scream fresh and new for me, but props to JLO for taking on a new business venture, and always looking fabulous in everything she wears.
What do you think of JLO's line? Did JLO make a hit, or did she simply miss? The line will launch in September.