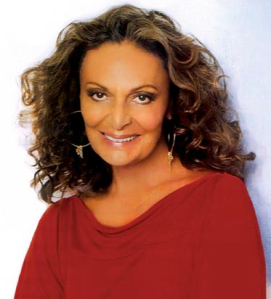 As the creator of the iconic wrap dress, the president of the CFDA, living through the philosophy "love is life", empowering women, and much more, Diane Von Furstenberg is a fashion legend. Entering the fashion world in 1972, DVF's brand just keeps getting better, and better. I present you my interview with Diane Von Furstenberg.
S: How have you managed to stay relevant as a brand for decades?
D: When you create something truly classic it is timeless; that's what happened with the wrap dress. But all of my designs—the clothes, the shoes, the accessories—are easy to wear. They are comfortable, and they make a woman feel confident and beautiful. So of course that never goes out of style. I think it is easy to stay relevant if you understand women.
S: Your clothes are reasonably priced for using beautiful fabrics, wonderful designs, and excellent fit. How do you accomplish this?
D: For me, it has always been about value. It's about real quality and real design. I still see my dresses from the 70's in vintage stores and they are more expensive. But you know what? They lasted.
S: What do you recommend the young aspiring professionals to wear to "dress for success" today?
D: Women should wear clothes that make them feel strong and confident. At work especially, I think a woman should be comfortable. So a dress is the perfect work attire. And the accessories are important. They set the tone for any look. You can keep it professional with a nice handbag like our Harper Connect, which I love because it has a place for my iPad. Add a nice high heel and go for it!

S: When on a budget, what are the best accessories to invest in to wear with your clothes?
D: Accessories are always a solid investment. They are the punctuation! The comma and the exclamation point! Like I said, I love the Harper Connect, but I think any of our sophisticated bags that will make you look like a grown up. That is the best investment.
S: What is your opinion of the reality shows in your industry like Project Runway?
D: I think anything that highlights what we do in fashion is a good thing for the industry. It is a very fun business. It is glamorous and exciting but it is also a lot of work. I suppose that makes for good television.
S: What is the best way for a young designer to get started?
D: Find someone who will help you. For me it was Diana Vreeland. I took her my designs and she liked what she saw, so she helped me. Now there are many resources that actually exist, like the CFDA Vogue Fund. Young designers should learn what they are and go after them. Enter all of the awards, because even just the process of applying will tell you so much about what you are doing. It will force you to write on a piece of paper who you are and where you are going. And that will bring clarity. Clarity is the most important thing.
S: You seem to have done everything possible in your field. Is there anything that you either wished you had or still want to accomplish?
D: I want to keep growing my business. We just launched a home collection and we are launching a beautiful fragrance in September that is all about seduction. I want to focus on the business and I want to keep empowering women. I have a lot of clarity about where I am going and what I want to do. There is always more to accomplish!