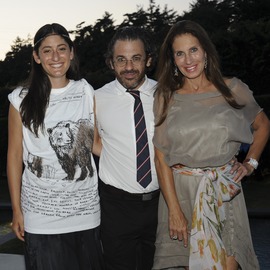 Just in case you missed what was going on in the Hamptons last Saturday, here's one event to make note of: the first annual "Save The Great American Wildlife", which is known as the Grizzly Bear fundraiser to benefit the Endangered Species Coalition. Hosted by fashionista Denise Wohl, her daughter Arden Wohl, and Tom Sachs, you know this ought to be a fab Hampton event. (in photo: Arden Wohl, Tom Sachs, Denise Wohl)
The fundraiser was held at a converted barn, which opened into a small vineyard, creating an intimate gathering. No Hampton event is complete without great entertainment, so noteworthy attendees listened to special musical guests, the Misshapes.
I always love the creative and noteworthy touches found at events, and it's even better when they raise awareness. Sachs created a special limited edition print featuring a grizzly bear and her cub to help bring awareness to the important work of the ESC and wildlife. Arden fashioned the top at the event for part of the evening, and looked adorable in it.
Which Hamptonites went to see and be scene? Johan Lindeberg, Yigal Azrouel, Derek Blasberg, Hilary Rhoda, Sean Avery, Waris Ahluwalia, Stella and Lola Schanbel, Monique Pean, and Cecilia Dean (among others). Below are some great pictures of the attendees: -Ahluwalia, Lindeberg- Azrouel- Avery, Rhoda, Blasberg- and Pean.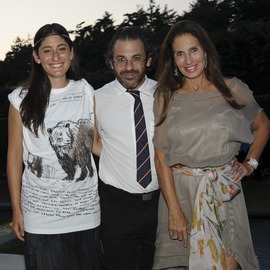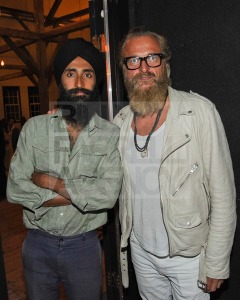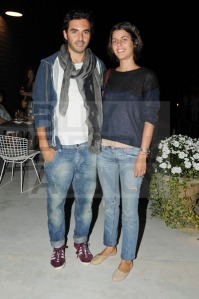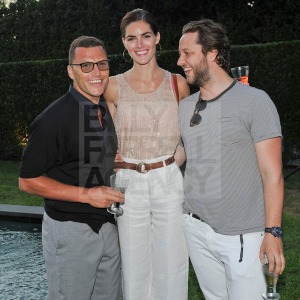 (photos: BFA Agency)