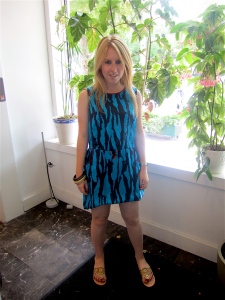 I can't believe it's the first weekend of August; the last month of summer. I say this every year, but summer really has flown by. August is always the month when I appreciate summer most because I know September, the month where reality begins, is close; too close for comfort.
I have already noticed the majority of fall taking over stores, bright colors and light pieces little in sight. The only place where I've found some great clothes to end the season with is on the sale racks. No girl can complain about a great sale, but I would really like to not look at fur coats, heavy boots, and corduroy pants for just a little longer, every time I walk down Madison Avenue, and now even in some stores in the Hamptons.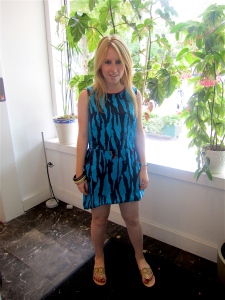 What to do to get your mind off of fall fashion? Go buy yourself a great sale item that will look fun and colorful for the end of summer, yet will transition well into the early months of fall. I did just that today. It was warm out yet quite overcast in Southampton, so I didn't really feel like going to the beach. Instead, I spent my day in town, meeting up with friends for lunch, browsing my usual stores, and going to some appointments.
I found the perfect dress at Tenet. It's Gryphon's tiger dress, perfect for August with a bright fun sandal, and great for fall with some sheer black tights and black booties. The dress is in bright blue and black with red and tonal rope-like trim; I especially like the two pockets on the sides, giving it a playful touch. Gryphon, without a doubt, is a brand that pays lots of attention to detail.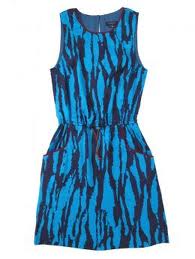 The dress was on sale: originally sold for $320, I got it for just $90. It was rather long (by the knees), so I took it to my tailor right after to get it shortened. I'll never forget the wise words that Tinsley Mortimer said during her Style Solutions interview; you must have a great tailor.
This Gryphon frock is so carefree, and I can't wait to play with some fun accessories to pair with it.