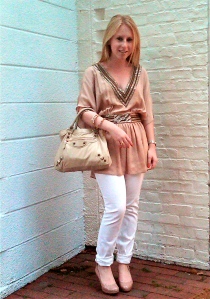 It's raining in the Hamptons today; not just a little drizzle, but pouring down rain. It's the perfect day for just hanging out at home in comfy clothes with a fun movie like Sex and the City or a great book (I'm in the middle of Pride and Prejudice).
I'm sitting on top of my bed in blue Juicy Couture terrycloth shorts and a black Calypso blouse, listening to oldies on 102.5 (one of my favorite radio stations out here), waiting for my friends from Israel to arrive, who are spending the day here. I feel so bad that it's raining! But my mom is making a great lunch, which includes poached salmon with cucumber dill sauce, chopped salad, a melon platter, coffee cake, and a variety of drinks like sweet green ice tea, fresh squeezed orange juice, sparkling water infused with lemons and limes, and regular water infused with cucumbers and mint.
Although it wasn't particularly nice out yesterday, at least it wasn't raining. After spending my day in town, I came home for a quick change and headed out to East Hampton. There was a trunk show at London Jewelers that I attend every year, and not only does the show include jewelry, but clothes and accessories as well. Not to mention the great variety of nibble food.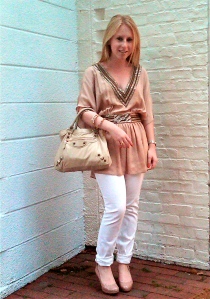 I only had a few bites at London Jewelers since I knew I would be going out for dinner afterwards. I went to Rugosa, a restaurant I pass all the time on route 27 but never go to because when I go to East Hampton I always want to go to Georgica or The Palm. However, this was honestly the best meal I've had all summer in the Hamptons. From the peach and mint sparkling drink, warm olive bread, dried blueberry and mixed green salad, to the baby roasted chicken with grilled vegetables, I was perfectly satisfied. Although not a scene-y restaurant, the rustic environment made it enjoyable to dine in.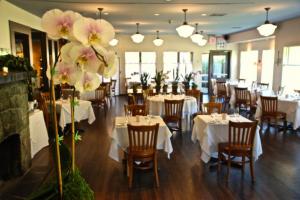 Since it was semi gross out, I didn't want to wear a dress, so I decided to go half dressy half casual. I paired my final item that I bought at Super Saturday last weekend -a nude Haute Hippie blouse embellished with beads in gold and silver on the v-neck line and waist- with my J Brand skinny jeans (I rolled them up for a cuffed look), my nude Louboutin platform pumps, my rose-gold Balenciaga beige and rose-gold purse, and a few bangles.