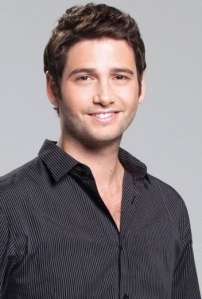 At the annual Love Heals event in the Hamptons, I spotted Josh Flagg, real estate agent, author, and star of Bravo's Million Dollar Listing. Stylish, funny, smart and nice (both inside and outside of the screen), Josh is the perfect interviewee for Style Solutions.
S: How did you get into the real estate biz?
J: When I was in high school I didn't know what I wanted to do. After some time, I realized I wanted to work with houses and really liked architecture, but I didn't want to be an architect. In the state of CA, you can be a real estate agent without a high school diploma. As a senior in high school I was one of the older kids in my class, so when I turned 18 I got my real estate license and started selling houses immediately. I would be making deals during a math class or history exam on my cell phone.
S: What is the most over the top open house you've held?
J: I've had horses, swans, and other farm animals along with white tents, white Range Rovers and so much more. I've even had a Bar Mitzvah at an open house.
S: Does dressing fashionably gives you a connection with your clients?
J: I dress the way I want to dress; I don't really take into consideration what others feel about it. If they don't like it, they can go buy a house from someone else.
S: You have two books that are out right now: Million Dollar Agent and Stories My Grandmother Told Me.
J: They were stories of my life and stories of my grandmother's life. We are close and I just felt like I had an opportunity to share some interesting stories that I have.
S: Your grandmother, Edith, is a pleasure to watch on TV. I recently learned that she is a fashion designer. Can you be found shopping together?
J: Well, when I go shopping I always use her credit card, so I guess we're always shopping together, we're never apart. Haha!
S: What differences do you see with the way "Hamptonites" dress vs. Californians?
J: I've noticed that New Yorkers dress really well and people from LA don't know how to dress at all!
S: Describe your personal style.
J: It's indescribable really. It's just me. Josh Flagg.
S: Who are three of your favorite designers?
J: Tom Ford, Gucci, and Brioni. They're very classic and professional.
S: What's next from you?
J: More houses, more TV shows, more books, more of everything; more ideas and more Josh!
S: Season 5 of Million Dollar Listing?
J: Yes, the new season has been picked up and announced! There is no date of when it will air; we are just beginning the show, but stay tuned on Bravo to find out when it premiers!