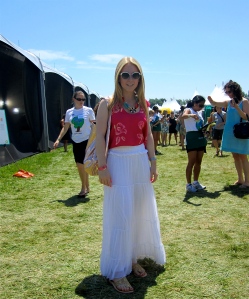 Taking a break from LA posts for the weekend, today is all about Super Saturday in the Hamptons. Super Saturday is my favorite charity event of the season because it is all about shopping. The event is run by The Ovarian Cancer Research Fund, which holds this event annually (this is the 14th year). Known as the Hamptons' biggest garage sale, Super Saturday is the event to go to for killer deals on the brands that you love: Jimmy Choo, Lisa Perry, Haute Hippie, Helmut Lang, Yumi Kim, Zimmerman, Nicole Miller, and many more (there are over 200).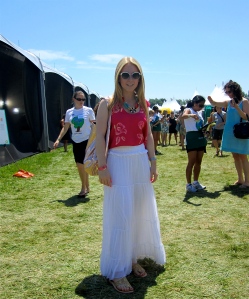 This year's event was hosted by Donna Karan, Emma Roberts, Ariel Foxman, Kelly Ripa, and InStyle. Noteworthy attendees included Rachel Zoe, Abigail Breslin, Isaac Mizrahi, Star Jones, Katie Lee, La La Anthony, Beth Stern, Shoshanna Gruss, Kelly Rutherford, Gina Glickman, and Lisa Rinna. In addition to the amazing shopping booths, there are lots of interactive activities, spa treatments, games, rides, fortune tellers, and more. The event has something for everyone.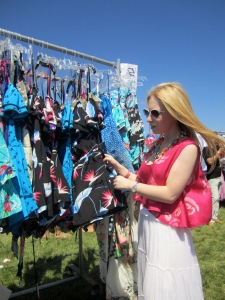 As I was browsing through the racks of Helmut Lang, I turned to my right and noticed who was browsing the same pieces as me: Rachel Zoe. Some get excited to meet celebs, others get excited to meet political leaders; I get excited to meet Rachel Zoe. Sweet, stunning, and fashionable, Rachel had her own booth of pieces that she handpicked. Zoe fashioned a to-die-for white floral maxi dress with a red, white, and grey beaded long necklace, and oversized burgundy shades. Bananas. (in photo: stylist and star of the Rachel Zoe Project, Rachel Zoe & Sydney Sadick)
Here's what I wore. Head-to-know (well, basically) in pieces from Kitson, I fashioned a white maxi skirt, a hot pink cropped sleeveless blouse with light pink flowers going through it, a link chain necklace in different beads (love), and a rose-gold tote, Chanel sunglasses, and gold cork Jack Rogers (which were not from Kitson).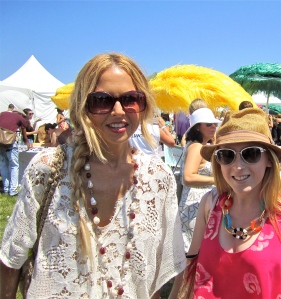 I got my carnival spirit on when sticking my head into a card board hole to dress as a clown; not so fashionable, but my friends and family definitely got a big laugh over it.
Super Saturday was so much fun, and I can't wait to show you my great purchases, each one on a budget. Enjoy this gorgeous evening!