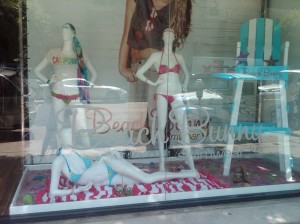 Sexy, colorful, fun, girly, and unique are the types of bathing suits that you can find at the adorable Beach Bunny Swimwear boutique in LA. I always find myself struggling to find that perfect bathing suit in department stores or ones that don't specialize in swim. However, the variety of suits at Beach Bunny made for easy and stylish shopping.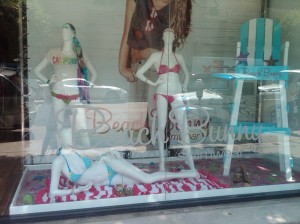 Swimwear was divided by color pallet and style. The first rack when walking in on your left was the pink and yellow pieces which screamed feminine chic.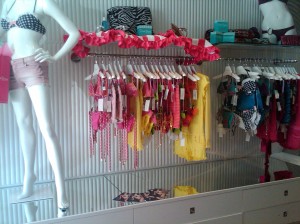 A rack on the right was full of hot pink and black pieces that were sophisticated with a twist.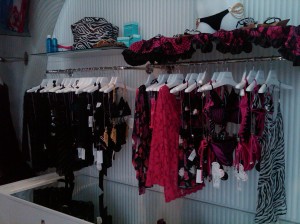 A rack in the center, which was my favorite because the suits and coverups were helped designed by the Kardashian sisters, was filled with purples and greens that looked so refreshing.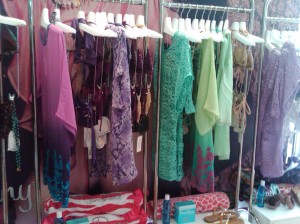 To the side were racks of white and turquoise pieces, which is always a classic option.
All of the pieces at Beach Bunny have personality and a wow factor, be it the stunning color options, lace finishing, or sexy design. What I loved just as much as the suits was the fabulous coverups because they were trendy while still being comfortable.
In the back of the store was a large lounge and changing area with big flat screens showing runway videos of the collections. The store, as a whole, felt very beachy with the aqua walls, wooden floors, and multicolored sandbox in the window with seashells placed ever so precisely. A cute suit and coverup, a great pair of shades, jelly sandals, and a chic fedora is all you need. Beach please!