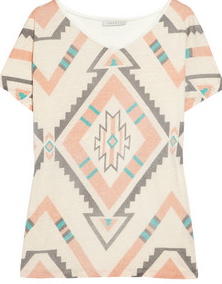 It's 80 degrees out, a temperature that reminds me how close Summer is. This morning, I ran the Great Lawn in Central Park two times in my American Apparel bootie shorts, a black v-neck and my neon orange sneakers (I couldn't have made it without the new songs I just uploaded to my iPod from last night's Gossip Girl episode). It felt amazing to be running in such light attire, but that's not to say the air wasn't thick.
Today, my house in the Hamptons is officially being opened. It's time for the pool to transform from green to blue, the outside furniture to be put outside, and for me to get out there! I can't help but think about Summer and what the Summer trends will be since it's so beautiful out, but it's technically Spring, and we should all still enjoy it.
A major trend this Spring is tribal. I've seen everything from tribal frocks to tribal accessories, and I'm really liking it. Some like this trend more than others, but there are always ways to incorporate your own style in making a trend a little more you.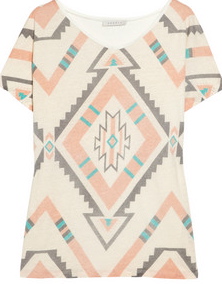 Sandro, a label from Paris, France (please take me there, now) just came out with an adorable multicolored geometric 'Tek printed linen-jersey T-shirt". This shirt is perfect for Spring days like today since it's linen, a perfect fabric for when you want to be cool and comfortable. I like this Sandro shirt because it still has a girly feel -despite its tribal vibe- with its chic color pallet: peach, nude, grey, and blue.
Complete this tribal look with light blue (almost grey) skinny jeans, brown leather flat gladiator-esq sandals, a geometrical cocktail ring in gold and blue, a nude fringe suede handbag, and grey aviators. Paint your nails in a dark nude shade, and apply a pink gloss to your lips.
The Sandro shirt is available on Net-a-Porter.com for $160.