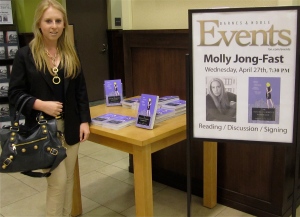 Most don't know this about me, but reading is one of my favorite hobbies. Of course the books that I read are limited to chick-flick types, but I say reading something is better than reading nothing at all. It's hard for me to make time to read, but when I do -like during the Summer when I'm not in school, relaxing at Coopers Beach in Southampton on a Saturday afternoon, or hopping on a Jitney bus, train, or plane- I find myself in a content state of mind. Here's a new book that I'll be reading this Summer, and you all should too: The Social Climber's Handbook, by Molly Jong-Fast.
This evening, I attended Molly's book signing at Barnes and Noble for her new novel. I wore J.Crew cargo pants and a black v-neck, black wedges, a vintage Hermes belt, a gold chain necklace, and my black Balenciaga purse. Molly read parts of her book, had a Q & A, and signed books. I met bold, fun, sweet and great writer, Molly, a few years ago when her son and my brother went to pre-school together. Molly is the daughter of author Erica Jong, and has written two other books: Normal Girl, and Girl Maladjusted.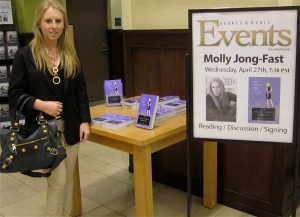 Here's the synopsis of The Social Climber's Handbook: Upper East Side socialite Daisy Greenbaum is accustomed to the finer things—designer clothes, summers in the Hamptons, elite private school educations for her daughters, and a staggeringly expensive Park Avenue apartment. But Daisy finds her well-heeled lifestyle on precarious footing after her husband, master of the universe Dick Greenbaum, learns about some shady dealings that threaten his position at The Bank. Daisy refuses to allow her family to slip down the social ladder, so she devises a madcap plan: Anyone who jeopardizes her place at the top will simply have to be dispatched—six feet under. From Dick's arrogant boss to his scheming former mistress to a pair of nosy bloggers, Daisy's hit list is a who's who of big names with even bigger secrets. But with the body count rising as the Dow Jones falls, can Daisy really get away with murder?
Murder, high society, fashion, and truth, this book is a must-read. As the novel says, high society can be a killer. Check out The Social Climber's Handbook on BN.com for $10.