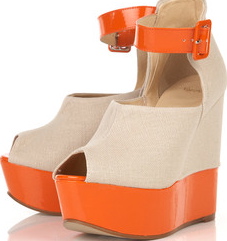 With rain one hour and sun the next, I have seen quite a variety of shoes on the streets today. Some girls are fashioning Hunter Boots for those nasty puddles, while elegant uptown ladies don't give a hoot about the rain, and wear their Louboutins anyways. Then there are those who are in noticeably dress-code ballet flats coming out of school, the sporty ones in sneakers who can't miss a jog in the park, even if that means they might get caught in the rain, and then there are those statement making chicks in sky high wedges.
Most of the wedges that I've most recently blogged about have been made of cork. I love the cork look due to its classic simplicity, yet sometimes we find ourselves wanting to be bright, bold, and funky, and slip into a shoe that makes everyones eyes turn wow.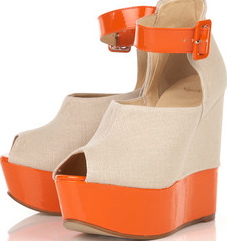 Topshop just came out with a daring pair of 'SCRIPT Natural Linen High Vamp Peep Toe Platform Wedges' that are cool in every shape and form. These wedges are sky high, chunky, and statement making: I love them. What I love most about these wedges is its patent orange platform sole and ankle straps. Another great part about these wedges is the fact that they are part of Topshop's Edited Collection: pieces handpicked every Tuesday by Jacqui Markham, Head of Design.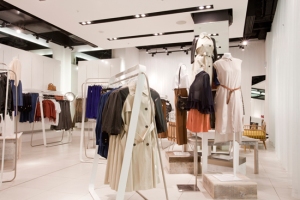 Wear these fierce wedges with khaki shorts, an orange short-sleeve button down, black oversized sunglasses, a black long and thin handbag, and a multicolored cuff that incorporates black, orange, and white.
The wedges are available on Topshop.com for $140.