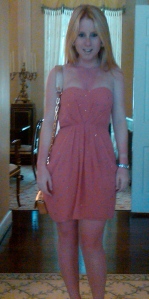 At 5:00 this morning, there I was, back in my city clothes waiting in the endless security line at West Palm Beach International Airport. Leaving Palm Beach is never easy for me since it's another home. This was the hardest "good-bye" yet since it was my last trip of the season. After Easter weekend, Palm Beach tends to start slowing down, and everyone gets ready to leave and head to their Summer homes or destinations. You know this is true when Palm Beach supermarket, Publix, is already under construction today. Even though I am going to sincerely miss Palm Beach for the next 6 months, I have summering in the Hamptons to look forward to.
My last day in Palm Beach (yesterday) was first spent at Easter Brunch: a huge buffet full of every type of food you can think of, a live orchestra, chocolate give aways, an Easter egg hunt for the younger ones, and more. Women were dressed up in stunning attire, all of which were in bright colors. The majority of the women who attend this annual Easter brunch at our club wear large and extravagant hats, ones that you need to have extreme confidence to wear. My grandma used to try to get me to wear versions of these hats when I was little, and my answer was always no! Although beautiful, oversized hats aren't "me": I'm more of a fedora type girl. I actually admired what the men were wearing even more so than the women. Men fashioned customized Stubb and Wooten shoes, bright Hermes ties, and perfectly fitted suits.
I wore a Twelfth Street by Cynthia Vincent pink dress embellished with blue, yellow, and lavender crystals. I love this dress because it's comfortable, flattering, and strapless (although it doesn't cover my noticeably red sunburn!). I paired this frock with a Tory Burch rose-gold crossbody, gold Valentino peep-toes, and a rose-gold crystal cocktail ring.
After brunch, I spent the afternoon at the pool and the beach, trying to get the last bit of sun (I was more cautious about wearing sunscreen this time). Now back in NYC, I sit here on my bed with loads of work, a somewhat painful sunburn, and memories from this weekend that I'll never forget.