Instead of my alarm clock or someone in my apartment telling me to wake up, this morning I was woken up by the sun coming through my window. It felt so good to wake up to a bright sky and Spring weather, making me want to get out of bed and start my Saturday immediately. My Saturday started off with breakfast at Max Brenner's new Upper East Side cafe, Little Brown Chocolate Bakery and Coffee. The new eatery is perfect for quick and easy food, and I particularly loved their assortment of beverages and baked goods.
Afterwards, I ran a bunch of errands. I needed a sports bra from Victoria Secrets, and some new Spring lipsticks from MAC at Bloomingdales. As I was purchasing my makeup, I spotted Carson Kressley, stylist and member of the fab 5 from TV show Queer Eye For The Straight Guy: I loved the show.
As I was browsing in some different stores uptown and midtown, I came across two different items by Rag & Bone that are must-haves for Spring and come Summer. One is a piece of clothing while the other is an accessory, and they are not meant to be warn together. The two Rag & Bone items that are my newest obsession are 'blush mid-rise cropped skinny jeans' and a 'short brim beach hat'.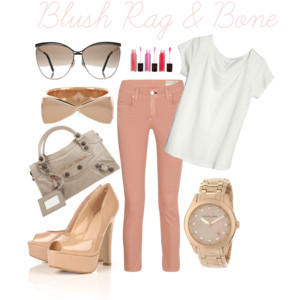 The blush Rag & Bone skinny jeans are a chic and fun alternative to a simple blue jean. The color is basic yet cool, and will look fresh for Spring. Take advantage of the warmer months by wearing color. Dark colors are still needed, but bright colors make every outfit more fun. The jeans will look great with a white short-sleeve blouse, nude patent leather peep-toe pumps, a rose-gold watch, a rose-gold ring, a nude handbag with rose-gold hardware, gold sunglasses, and a shiny pink lip.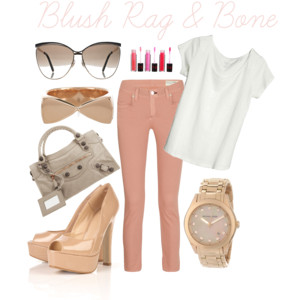 The 'short brim beach hat' is an adorable hat for Spring and Summer. The hat will look great when walking around during the weekend, having a picnic in the park, or when it gets to Summer, hanging out at the beach. I used to hate hats, but now I find them to be a cute accessory when they have a little twist. I love this Rag & Bone hat because the blue piece of fabric rapped around it takes the simplicity of the basic straw hat to the next level. Wear this hat with faded blue skinny jeans, a black short-sleeve blouse, black wedges, a black and beige tote, a turquoise and gold ring and bracelet, and apply blue eyeshadow to your eyes.
The jeans are available on Net-a-Porter.com for $155 and the hat is available on Rag-Bone.com for $195.