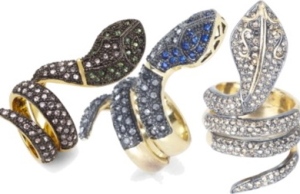 I love animal jewelry, especially pieces that are designed to look like a snake. However, my love for snakes stops right there: the animal freaks me out in real life. If there is one memory I will never forget from my early years in elementary school, it's going to the Central Park Zoo with my 3rd grade class to learn about snakes, and getting the "opportunity" to hold them. To some this was exciting, but to me this was horrifying. I look at the creature as being slimy and sneaky, not the type of animal I would want as a pet. Surprisingly, I am obsessed with snake-shaped jewelry, and wear a snake piece of jewelry everyday.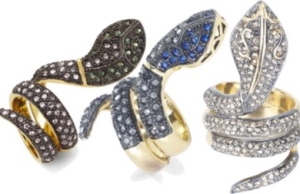 When my aunt was a teenager, she received a gold snake ring with green emerald eyes for one of her birthdays. When I was about 10 years old, I was visiting my grandparents in Pittsburgh, PA and decided to go through some drawers in my mom and aunt's bedroom as a child. In a drawer was a little jewelry box with the snake ring in it. I fell in love with the ring from the moment I found it, and knew it had to be mine. My aunt let me keep the ring, and I have worn it everyday since I laid eyes on it. The ring has become a daily basic, and I wear it with anything from a pair of jeans and a blouse to a sequin cocktail dress.

Actress, Angelina Jolie, was spotted wearing a gold snake ring that looks similar to mine. Snake rings are definitely a must-have.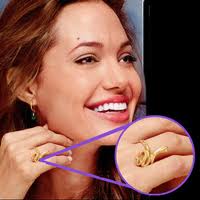 Even though I love my snake ring, there are some days when I wish it had a little pizzaz. BCBG just came out with three adorable and glamorous rhinestone snake rings in three different color options: green and gold, blue and gold, and light gold and gold. All three color options are great for Spring because they're fun, sparkly and girly: the blue snake ring is my favorite.
Wear this blue snake ring with camel leather shorts, a navy-blue blouse, navy-blue wedges, a navy-blue handbag with silver hardware, multicolored sunglasses, and a camel cropped fur vest if it's chilly outside. The three rings are available on BCBG.com for $138: check them out.