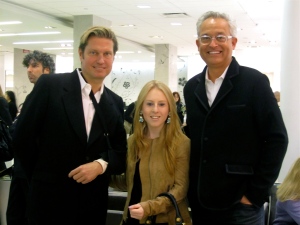 This afternoon, I had the opportunity to meet Mark Badgley and James Mischka at the launch of their new footwear line, Mark & James, at Bloomingdales in NYC. Badgley and Mischka are some of the most talented and respected designers in the fashion industry, and are best known for their couture line, Badgley Mischka. Badgley Mischka defines Hollywood glamour with its sophisticated, modern, girly, and glamorous style: it's all about bringing back the glamour of the 40s.
The Badgley Mischka line not only contains clothing, but jewelry, handbags, footwear, eyewear, swimwear, and watches too. Plus, the designers also have a fragrance, and bridal and bridesmaid line. I've loved Badgley Mischka ever since I was young, and do so even more now that I am older, which made meeting the designers extremely exciting. The designers' new Mark & James footwear collection is perfect for the girl who loves Badgley Mischka shoes but wants a more affordable price and modern look.
When meeting the fashionable duo on the contemporary shoe level at Bloomingdales, I asked them what inspired them to create Mark & James. The designers said that they always get young celebrities wanting to wear their shoes for red carpet events and award shows, and wanted to make a younger and affordable line that is inspired by the young Hollywood stars that wear their shoes.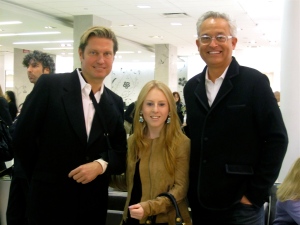 I then asked the designers what their favorite shoe is from the collection (I loved them all, so I can imagine how difficult it was to pick just one!). The designers adored their 'Malko Wedge Sandals', which are tall wood wedges with a leather flower and in a flattering t-strap style. The wedges are perfect for Spring with their chunky and girly look. I also loved these nude and black large gold stud embellished gladiator sandals with a little heel and ankle strap. There are many more to-die-for shoes in the collection, and prices of the shoes range from $200-$300.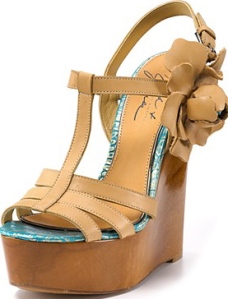 Meeting the designers was great, and not only did I have fun chatting about the fabulous collection of shoes, but the designers also noticed that I was wearing Badgley Mischka blue multicolored hanging crystal earrings that I've been obsessed with ever since I bought them in Palm Beach last year.
Be sure to check out the Mark & James collection to get the perfect stylish shoe for you this Spring.