Since June, when I first started blogging, I have connected with bloggers, important people in the journalism and the fashion industry, and fans who read my blog around the world. Today, I had the opportunity to attend a Neutrogena beauty bloggers conference to network with fellow bloggers and learn about the science behind skin aging and fast forward to the latest innovations of anti-aging.

The Neutrogena beauty bloggers conference took place at the just-opened Mondrian Hotel in Soho. Neutrogena sent a car service for each attendee which definitely added some glamour to the experience: I was picked up by a black Mercedes SUV. When arriving at the absolutely stunning and cutting edge all blue Mondrian Hotel, I was escorted to an intimate sized room full of tables covered with notepads and pens. Before the conference began, you were able to get some light food at the buffet-style table towards the back of the room full of wraps, fruit, salads, cookies, etc.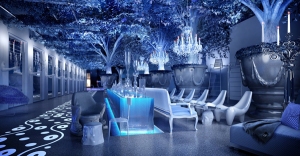 Once the 20-30 bloggers sat down with something to nibble on, the conference began, which was led by a Neutrogena executive, a Johnson & Johnson executive, and a NYC dermatologist, Dr. Diane Berson, who recognized me as I walked in since she is in the same field as my dad. Dr. Berson gave a great lecture about the science behind skin aging and how to prevent your skin from aging tomorrow, and introduced Neutrogena's new Rapid Wrinkle Repair Line. My teen readers don't need this type of line yet, but my older readers who want a product line rather than injectables will be interested. The line contains a day, night and eye moisturizer. As said by Neutrogena, this new aesthetically pleasing line with Accelerated Retinol SA is formulated with Stabilized Retinol and a glucose complex: this is what improves your overall skin texture. Neutrogena also says that the line is proven to help fade the look of stubborn deep wrinkles, brighten skin's tone and smooth fine lines and textures.
The presentation and conference in and of itself was very interesting and a great opportunity for us bloggers because we were able to network with one another, learn about a new product line, and have the ability to talk to important figures in the beauty industry. I left the event with new connections, more knowledge, and a cute goodie bag which contained the entire Neutrogena Rapid Wrinkle Repair line. Check out these products on Neutrogena.com