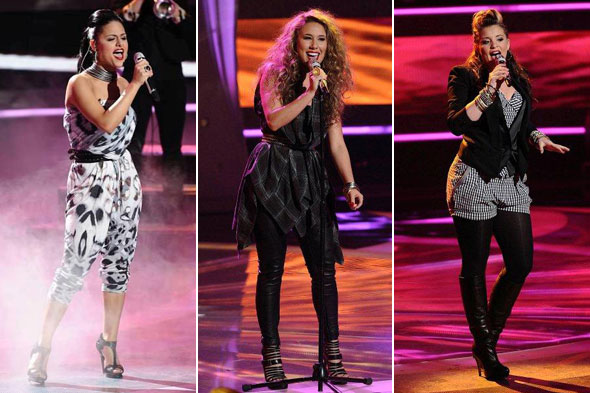 This season of American Idol is by far the best season yet. The contestants are amazing, each one with their own unique style. Plus, it proves to show that you don't need a "mean" judge, Simon Cowell, to have success: Steven Tyler and JLO make for great television. I enjoy the show more and more each week, but I particularly liked this past week's round since Gwen Stefani styled the final three women.
The theme of this past week's round of American Idol was rock, and Gwen Stefani was the guest stylist. Stefani styled the final three women: Pia Toscano, Haley Reinhart, and Lauren Alaina. Each girl was dressed head-to-toe in Stefani's collection, L.A.M.B, giving the girls an edgier look. All of the clothes were in black and white, the shoes and accessories were chunky and bold, and the makeup and hair styling was more "out there" too: bigger hair and bright red lips.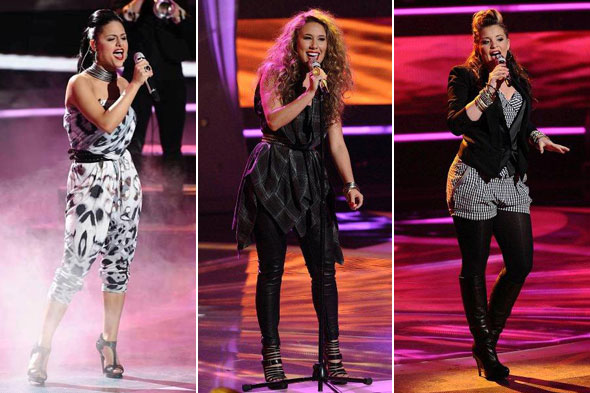 Pia Toscano, who sadly and shockingly got voted off after her performance this past week, fashioned a strapless animal-print L.A.M.B jumpsuit which highlighted Pia's body and edge. What made the outfit, though, was the choker necklace because it was bold and statement-making.
Haley Reinheart, who has been one of my top favorites this season, fashioned form-fitting leather pants and a plaid sleeveless top. We usually see Haley in bright and girly numbers, so it was nice to see her in this more "grown up" look. I'm not a huge fan of the top, but I do love the pants and the strappy shoes.
Lauren Alaina, the youngest competitor, wore a L.A.M.B bandeau top, matching short shorts, opaque tights, black boots, and a fitted tuxedo jacket. This outfit definitely has a flirty look, and makes Lauren look more mature.
Each girl's outfit is different in some ways, but similar in others. All the girls look great, but I have one favorite: Pia. Whose outfit do you like best? Vote!