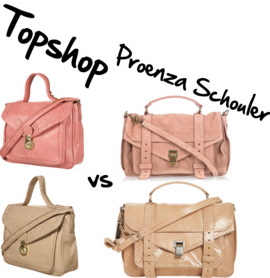 For the past few weeks, I've been raving about the gorgeous Spring weather, but now I get to rave about the Summer-like weather that hit NYC today. It was incredibly and comfortably warm out today with people un-jacketed, sunglasses on, and frozen yogurt or a cold drink in hand. I was one of those New Yorkers: suede jacket stuffed in my bag rather than me wearing it, Butterfield coffee frozen yogurt with mango and carob chips on top in hand, and evidence sunglasses on.
Tonight I am going to NYC hotspot Beauty & Essex for my friends Sunny and Nicole's birthdays. As I was on my way to pick up their gifts, I saw an abnormal amount of women carrying the new and incredibly popular Proenza Schouler "PS1" handbag. The Proenza handbags come in multiple sizes, but the medium size bag seems to be most popular amongst NYC women. The handbags come in a wide range of colors -nude, green, peach, brown, black (just to name a few)- and are the perfect size for women who need an all-day handbag that is practical and chic.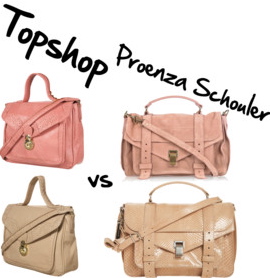 The downside to these "It" handbags are the fact that they are over $1,000; but, don't worry. Topshop recently came out with similar looking handbags -'Punch Out Detail Lady Bag'- that are just as colorful and fun and are actually a bit moderner looking. The Topshop handbag comes in two colors, nude and coral, and are a great accessory to have for Spring and come Summer. I like both colors because they're easy to match with shoes clothes, and other accessories. The nude bag is more basic while the coral bag is a bit brighter and fun, so it all depends on what you're looking for. I also love the punch out trim detail, gold clasp, and the ability to attach a long strap so you can wear it as a crossbody when needed.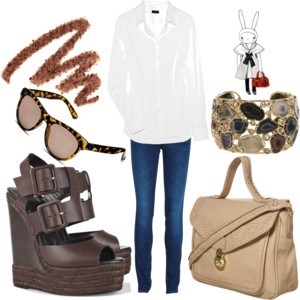 Wear the nude handbag with a white button-down shirt, blue skinny jeans, brown leather wedges, tortoise sunglasses, a gold cuff with dark multicolored stones, and bronze makeup. Wear the coral handbag with a navy-blue boyfriend blazer, blue skinny jeans, navy blue patent leather peep-toe pumps, navy blue and brown sunglasses, a coral/peach geometric shaped cuff, and apply peach eyeshadow to your eyes.
The 'Punch Out Detail Lady Bags' are available on Topshop.com for $70: check them out.