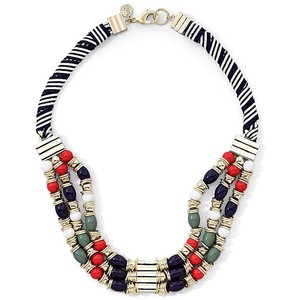 Boy did I pack wrong for my weekend in Boston! Thinking it would be on the warmer side like in New York City, I packed a variety of blouses and just one sweater. Plus, I didn't even bring a heavy jacket: I brought my black fur vest that doesn't do justice in this windy yet charming city. It doesn't seem like Boston has been hit with Spring fever just yet, but the city will soon enough.
After a long morning and afternoon of college visiting, a few hours of shopping was much needed. For some reason, I am always more successful at shopping outside of New York: perhaps I'm more relaxed, and have more time, although I always feel like I'm rushing somewhere. I did best at Saks Fifth Avenue, whose contemporary section is so much better than at the Saks in NYC. I got a great white loose-knit sweater, a multicolored blouse that is finally on sale after I've been eyeing it for months, and a camel suede BCBG jacket that is perfect for chilly yet sunny days.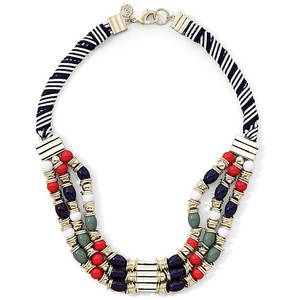 As I sit here in my hotel resting before dinner, I still feel eager to browse my favorite fashion sites like Net-a-Porter and Shopbop. While browsing the different sites, I came across a large number of fabric necklaces, a noticeable jewelry trend for Spring. Of course out of all of the necklaces displayed on the sites, my favorite was the $575 Missoni one, 'Large Tube Circle Necklace', that is colorful, bold, and tribal looking.
Spending almost $600 on a necklace isn't reasonable, so I found a necklace that has a similar look to the Missoni necklace but is less expensive. MNG by Mango just came out with a 'Multi Stripe Necklace' that has a combination of a nautical and tribal vibe. This necklace resembles the Missoni necklace due to the fabric stripes, but actually has more of a twist due to the three rows of multicolored beads.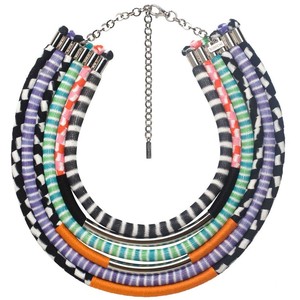 Wear this 'Multi Stripe Necklace' with a sleeveless flowy black dress, black suede high-heel sandals, a tote in black and red to bring out the colors of the beads, black sunglasses, and bold red lipstick. You can check out this funky necklace on JcPenny.com for $48.