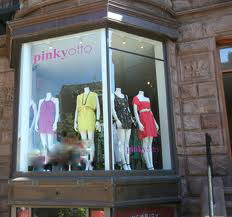 Although it is another freezing day in Boston, my dad came to the rescue and brought my puffy black "ski" jacket before leaving NYC, which was perfect since most of my day required lots of walking. My day started off at Finagle Bagel, the best bagel store in Boston which has a variety of delicious flavors like triple chocolate chip and french toast: so good. I then headed to two college tours, and then had lunch at The Four Seasons hotel.
After lunch, I decided to walk on Newbury Street to browse and shop some stores. Newbury street is full of the typical stores you'll find everywhere, like Marc Jacobs, Steve Madden, etc, but also some local boutiques. Of all the stores I went into, there was one in particular that I liked best: Pinkyotto.
Pinkyotto exclusively carries their namesake brand, and as said on Pinkyotto.com, caters to girly-girl individualists who are unafraid of the latest trends but want versatility from their special pieces. I like the Pinkyotto line because it's colorful, fun, glamorous, girly, and affordable. The store carries great patterned and solid evening and day dresses, jackets and outerwears, adorable tops, bottoms, and cute accessories like handbags and belts: the dresses are my favorite.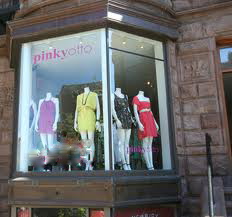 After trying on a few dresses, there was one that I knew was purchase worthy. The dress I bought is a modern interpretation of the lace and stripe trends for Spring: two trends for the price of one! This short-sleeved sheer frock is lined for comfort, and the feminine lace pattern is embellished with metallic gold trim that gives a sexy edge to keep the dress from being boring. I plan on first wearing this dress to an Easter luncheon in Palm Beach. I'm going to accessorize the dress with gold Valentino high heal sandals, gold hanging earrings, and a gold clutch.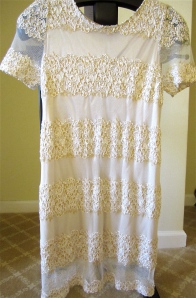 Pinkyotto is great for girls who don't want to spend lots of money, but still look just as chic and glamorous as the models fashioning the designer clothes on the pages in the high-fashion magazines. Pinkyotto not only has a store in Boston, but other locations in NYC and Brooklyn. Check out store locations and the line's collection on Pinkyotto.com