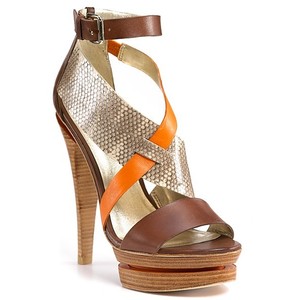 Shoes are continuing to be modernized and exaggerated each day. A few years ago, a simple black pump with a thin high heel was considered to be hot, sexy, and all of the above. Currently, simplicity is one of the last qualities we see on shoe racks in this day in age. Now it's all about different textures, platforms, funky patterns, and cool colors: it's a shoe revolution.
This Spring, I'm noticing lots of wooden looking platform sandals that are so high that it seems impossible to walk in them. However, thanks to the secure ankle strap, staying on your two feet shouldn't be a problem. If Rachel Zoe can walk in heels throughout her entire pregnancy, than I think we all can.
In fashion, it's always fun to take risks. When shopping for shoes, sometimes it is intimidating to try on those sky high and very "out there" looking pairs. However, if you find the shoe that is your style and is still trendy, you'll end up feeling comfortable and cool when strutting in your new pair.
Pelle Moda just came out with a funky pair of dark brown and apricot 'Franky' high-heeled sandals that are extremely colorful and bold. The sandal has a double wooden platform, giving it a sexy edge. Bringing a pop of color, there is a bold streak of orange leather which tops off this shoe, and is to be highlighted when choosing your perfect outfit.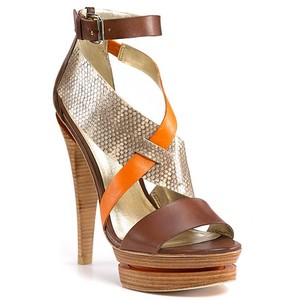 To bring out the orange bold strap, wear these sandals with an orange silk short sleeve dress, a brown leather handbag to bring in the brown from the shoe, an orange cuff with other bright colors like pink and green, and tortoise shades. Giving yourself a bright orange lip for the ultimate look.
The sandals are available on Bloomingdales.com for $180: check them out.