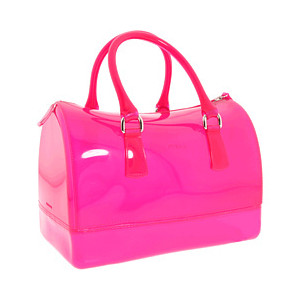 Ever since I was little, I've spent Spring break in Miami and Palm Beach, seeing friends and family, and of course getting some sun. However, this year I'm doing something completely different: I'm going college visiting in Boston. It's crazy to think that this new chapter in my life is starting now, but at the same time it's so exciting. I'm headed to Boston today for the weekend, and while I'm there I'll be giving you glimpses of Boston fashion. Before I leave, I need to blog about a purse that is one of the "it" bags of the season.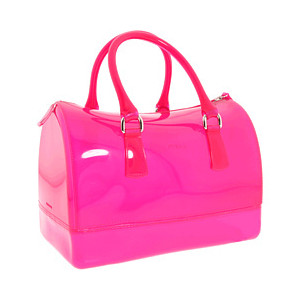 Fluorescent clothing and accessories are everywhere. From the racks in stores to the Monday style section of The New York Post, fluorescents are extremely popular for Spring: jeans, shoes, jackets, sunglasses, you name it. About two years ago, I purchased a fluorescent patent-leather blue Rebecca Minkoff handbag that I was obsessed with, but I haven't worn it in about a year because it seemed to be out: now's my chance to wear it again.
The most popular fluorescent colors are pink, orange, yellow, and green. These bright colors scream fun and glamour, and remind me of sweet and colorful candy: gum-balls in particular. It's time to get some new arm candy, and Furla's new 'Candy S Bauletto' is a perfect option.
The 'Candy S Bauletto' handbag is a great handbag to add to your collection. The purse is large enough for all of your daily necessities -wallet, sunglasses, cellphone, makeup, etc- but isn't too big to wear at night. The handbag has a mod look, and will be the pop of color to any outfit that needs it. There's nothing like a great handbag to bring an outfit from drab to fab.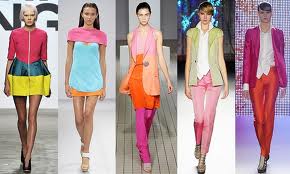 Wear this candy-like handbag with a floral sleeveless blouse that has a similar pink to the handbag but is combined with other colors like blue and green, blue skinny jeans, blue platform peep-toes, sparkly crystal hanging earrings, and a bright glossy pink lip. Every girl needs to have that girly moment, and Spring is the perfect time of year to have one.
The 'Candy S Bauletto' handbag is available on Couture.Zappos.com for $195.