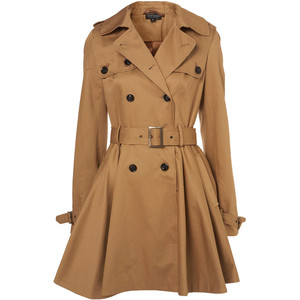 Right as it started to feel like Spring, NYC had to get a two-day combo of rain and snow. It's crazy to think how just a few days ago it was 80 degrees and sunny, where now as I look out my window, there are some patches of snow on the grass in Central park.
Even though it's chilly and rainy/snowy, there's something about putting on a heavy jacket that isn't appealing. A few days ago, I was watching one of my favorite morning talk shows, The View, and designer Tory Burch was the special guest. The View had a mini fashion show presenting Burch's favorite looks from her Spring 2011 Collection, one of which was a trench coat.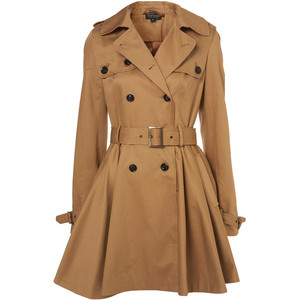 Burch listed some must-haves for women for Spring, and one of them was a trench coat. Trench coats are great for days like today because they keep you warm yet aren't extremely heavy, and are a classic that won't go out of style. Burch's trench coats are adorable; however, they are expensive. I found a trench coat that is similar to Burch's style from Topshop that is perfect for a day like today.
Topshop recently came out with a 'Stone Double Storm Flap Trench' that is an updated version of the trench coats that followed World War II. The coat won't get dirty due to its dark yet appropriate Spring color, and can be dressed up with a dress and heels, or down with a pair of jeans. Since the weather is a bit iffy today, why not find a happy medium between dressy and casual?

Wear this Topshop trench coat with a simple black long sleeve dress (I find it's easier to wear dresses in the rain because if you wear pants, they will get wet), black tights, black rain boots with a little heel (preferably with some sort of embellishment: i.e studs), a black with gold chain shoulder bag, black, brown, and gold bangles, gold eyeliner, and a clear umbrella with brown trim to tie the look together.
The Topshop 'Stone Double Storm Flap Trench' is available for $180.
Check out Spring Trends 2011 slideshow here.