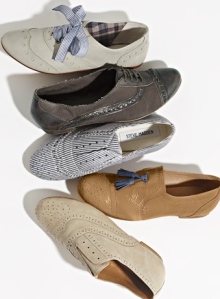 First popular in the 1800s, oxfords are back, and are a must-have for Spring. As the fashion world continues to modernize, it is noticeable that menswear has a significant influence on womenswear: we see this with labels like Rag & Bone.
Initially, oxford shoes were exclusively for men. Now, we see them being one of the most popular shoes for women to fashion this season, and are given a more feminine touch with ornamentation, color, and sometimes even heels.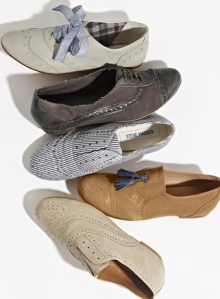 Recently, I've seen many designers and brands coming out with oxfords in which some look great, but the price is too high, and vise versa. However, Steve Madden has done a great job in designing great oxfords that are reasonably priced.
Stripes, leathers, patents, sparkles, and ribbons are some of what you'll see in Madden's collection of oxfords. Each oxford has its own personality -be it the color, pattern, or style- which gives the shoe a quirky yet fashion-forward look.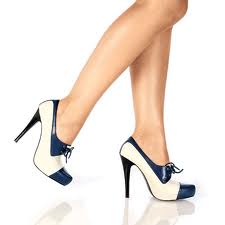 Steve Madden recently came out with a 'Tarrtan' oxford that comes in two colors: blush patent camel and black patent. The blush patent camel is my favorite because it will look fresh during the warmer months. Although the shoe is simple, the blue contrasting tassel gives the oxford a jaunty finishing touch.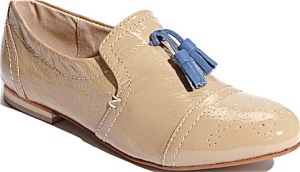 Wear this oxford with a denim button-down, black leggings, a blue shoulder bag with gold hardwear, tan and blue cat-eye sunglasses, a blue and gold cocktail ring, and a beige and gold stoned bracelet. Also, put on light pink nail polish.
The 'Tarrtan' oxford is available on Nordstrom.com for $80.