On beautiful days like today, I love taking long walks that lead me to fashionable destinations. I decided to walk down Fifth Avenue and play "I Spy" in a classic NYC department store, Henri Bendel. The store, casually known as Bendel's, was once full of the most luxurious clothes you could find. More recently, the store has transformed itself to an accessory and beauty product store only. At first, the transformation felt almost awkward, but now that it's been over a year, it almost feels normal.
When entering Bendel's, my face lit up with excitement due to the tables and tables of jewelry perfectly laid out on large tables. The last time I was in Bendel's (a few months ago) I was disappointed with the jewelry selection: not this time. I spied color. I spied glamour. And most importantly, I spied fashion forward. Each piece of jewelry was organized by color, jewelry type, and brand which was great for easy shopping. Out of all of the tables, there were three that particularly grabbed my attention.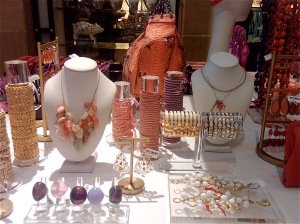 The first table of jewelry was covered in jewels in orange and purple: these colors seem to be popular for Spring. On the orange and purple table were chunky purple lucite rings, gold, lucite, and orange hanging earrings, single gold chain necklaces with chunky orange and beige beads, white, gold, and silver cuffs, and my favorite, hand-dyed orange and purple stone necklaces.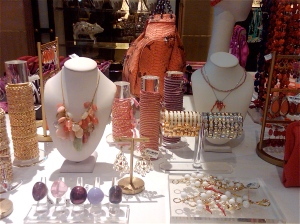 The second table was full of gold chain necklaces with delicate charms: flowers, stones, multicolored crystal balls, animals, feathers, you name it. Delicate necklaces with a pop of color, the charm, are great for outfits that are already loud, but still require an accessory.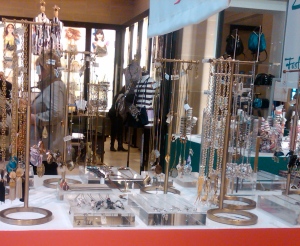 The final table was the revival of the friendship bracelet. Remember the days when friendship bracelets were in, but then went out? Well, now they're back in, and with the way they're looking, they are here to stay. Perfect for the girl who can't get enough of color, these friendship bracelets come in every combination of colorful beads imaginable: combos of light colors, dark colors, and some with crystals. The bracelets are great for Spring and Summer, and I would definitely consider buying one.
If you're in NYC, take a trip over to Henri Bendel's and browse/shop the amazing selection of jewelry. If you're not in the area, play "I Spy" on HenriBendel.com