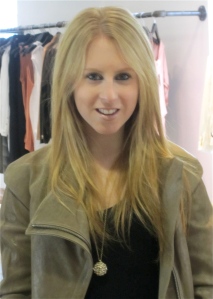 Exams are over, and Spring Break is only a few days away! I couldn't be more excited for my coming vacation since I have an intense rush of Spring-fever. I celebrated the end of my exams over lunch at Freds at Barneys (yes, again) where I sat a table away from Simon Doonan, the Creative Ambassador-at-Large of Barneys New York. (In photo: Sydney Sadick in a Helmut Lang leather jacket)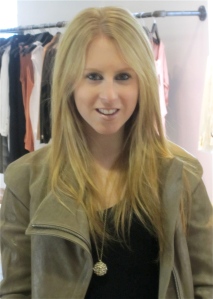 As I was walking around Barneys after a satisfying lunch, I decided to take a look at leathers which are a very popular trend for Spring: leather jackets, leather pants, leather trims, leather combined with other skins and fabrics, light leathers, dark leathers, you name it. The selection of leathers on the Co-OP and contemporary floors of Barneys are to-die-for, so I decided to not only browse the jackets, but try some on too.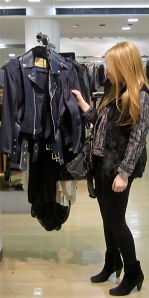 I first tried on a Helmut Lang camel leather jacket (first photo above) which has a classic yet edgy look with its zipper detailing. I recommend a light-colored leather jacket for Spring (camel, neutral, or white) since it's a fresh transformation from black. However, if you're more comfortable wearing dark jackets, navy-blue looks great too. I then spotted another camel leather jacket on a mannequin, but this one had suede detailing: so chic.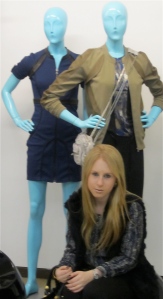 Next, I tried on a stunning Vena Cava cropped metallic pink and silver light-weight jacket with nude leather trim and military-esq shoulder detail: the perfect combination. This Vena Cava jacket is very me because it's colorful, on trend, and can be dressed up with a skirt and pumps, or dressed down with leggings and booties.
Overall, live and love the leather that you buy. Make sure it's comfortable, has a little twist, and defines you. Leathers are a must this season, so get shopping!