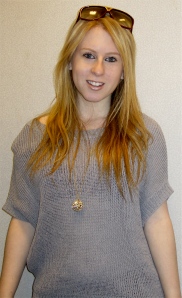 Over the past couple of weeks, I've noticed a Spring trend that has taken over boutiques and department stores: loose-knit sweaters. At first, I wasn't a big fan of the loose-knit sweater look, but then I started spotting loose-knit sweaters by Alexander Wang, Rag & Bone, and Vince which pleasantly changed my mind. (In photo: Sydney in Vince)
After my History exam, I went out for lunch at Saks Fifth Avenue which is great for getting a quick bite and then walking around afterwards. As I was browsing the contemporary floor, I came across racks and tables full of loose-knit sweaters by different labels that caught my eye. Loose-knit sweaters are popular because they're comfortable, light, and simple. Most of these loose-knit sweaters are in basics colors -grey, black, white, and neutral- which are good for everyday use.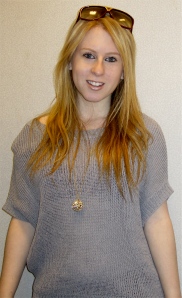 I'm always looking for a twist on a popular trend, and I found one with a loose-knit sweater by Vince. I don't own a loose-knit, so I decided to try on a few from the Vince collection. Vince recently came out with a metallic cropped loose-knit sweater that gives a simple outfit some glamour. The sweater comes in silver and gold: both colors are great, but it all depends on what looks best on you. For those of you who don't like metallics, the sweater also comes in solid grey which is what I'm wearing in the photo above. Vince also came out with loose-knits in neutral colors and black.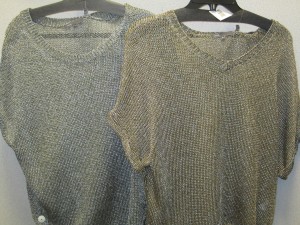 Vince tends to be expensive, so I found a loose-knit sweater on Nordstorm.com that is right on trend yet is less expensive. The cropped loose-knit sweater is by Trouve, and will look great over a black tank and black leggings during the Spring, and over a white tank and white jeans during the summer. The sweater is available for $68 on Nordstorm.com
Overall, loose-knit sweaters are a must-have for Spring, and they will be a great addition to your wardrobe.