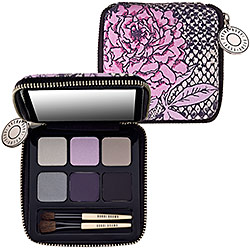 You know Spring is about to arrive when it's daylight savings time. Don't forget to move all of your fabulous watches and clocks an hour ahead: there are some things you don't want to be fashionably late for.
A few weeks ago, I did a store profile on Tibi in Soho. Tibi is one of my favorite clothing lines, and I would be content fashioning its colorful and flirty dresses all Spring long. For those of you who love Tibi and makeup just as much as I do, you'll be excited to hear the following.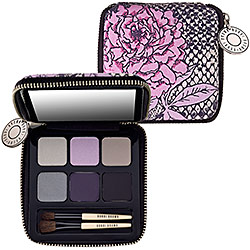 (In photo: Bobbi Brown applying makeup at the Tibi Spring 2011 Fashion Show) Bobbi Brown just came out with a limited edition eyeshadow 'Peony & Python Pallet' that was inspired by lush peonies and the playful, feminine chic of the cult fashion label Tibi (as said on Sephora.com). The pallet contains 6 gorgeous Spring shades in the lilac, purple, and grey family. The combination of the colors will give you an edgy and fresh look.
The shadows sit in an adorable peony and python case that was designed by Tibi exclusively for Bobbi Brown. I love this pallet because you're not only getting great shadows that come with two proffessional brushes, but you're also getting a fashionable case to keep it safe in.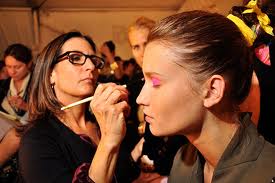 Bring out these lilac, purple, and grey shades with a great spring outfit: a purple dress, nude pumps, a denim jean jacket, an oversized purple necklace with pops of other colors like orange, a nude purse, and rose-colored aviators.
Check out the ' Peony & Pylon Pallet' on Sephora.com for $50.