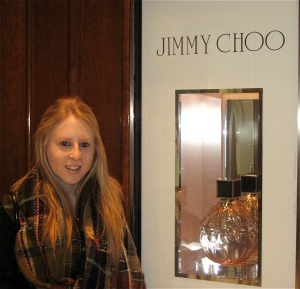 What do I do when I have a free during school? I go to blog-worthy launches and events for products, designers, and celebrities that I am obsessed with. A few weeks ago, I blogged about the then soon-to-be out Jimmy by Jimmy Choo Perfume. Guess what? Today was the launch of the perfume, and I was able to cover it.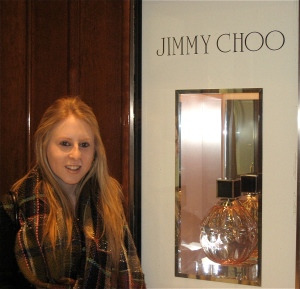 The launch of the Jimmy by Jimmy Choo perfume took place on the beauty level -first floor- of Saks Fifth Avenue. I had 45 minutes to get to Saks from the Upper East Side, get info on the product, take pictures, and make it back to class in one piece. Mission accomplished. When I arrived at Saks Fifth Avenue, there was a long camel carpet (the red-carpet aesthetic) for founder Tamara Mellon to walk down with her new fragrance. All shoppers and staff gathered to see Tamara walk the carpet, and you could tell how thrilled and excited she was.
The beauty level was packed with hundreds of girls waiting to meet Tamara, so I knew I wouldn't have time to wait and get my perfume signed. However, I was able to get into the press-only area in which I was able to snap pictures of Tamara, who fashioned a cheetah dress –so on trend- and a bright orange clutch for a pop of color.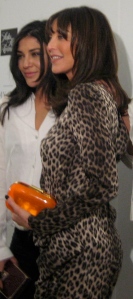 As I was taking pictures of Tamara, I was pleasantly surprised to see Gossip Girl star, Jessica Szhor, who I was also able to get shots of. Jessica looked stunning in a classic white button down and black pants, with a shiny pink lip. She was cute and playful while spritzing the perfume on her, and it was nice to watch. I was noticeably the only non-papparazi taking pics of her, and I saw her smiling at me and then looking towards the bottom half of my outfit. Well, I finally realized what Jessica was looking at: my uniform skirt which was used in Gossip Girl when they were still in high school. I have to say, it was pretty funny.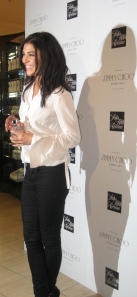 Also present at the launch of the perfume were models who were dressed up in adorable black dresses embellished with crystals and pink and black scarves, spraying the fragrance on customers who wanted a sniff of the scent. The perfume was clearly a hit based on the amount of people that were there, and I am definitely a fan. The perfume is available at Saks Fifth Avenue for $95.
I've had a great day today, and it just got even better. It is Mercedes-Benz Fashion Week in NYC, one of my favorite weeks of the year, and I am pleased to announce that I will be covering some shows! Get ready for a full coverage on the Jill Stuart show this weekend, and the Pamella Roland show next week, plus more: I can't wait!