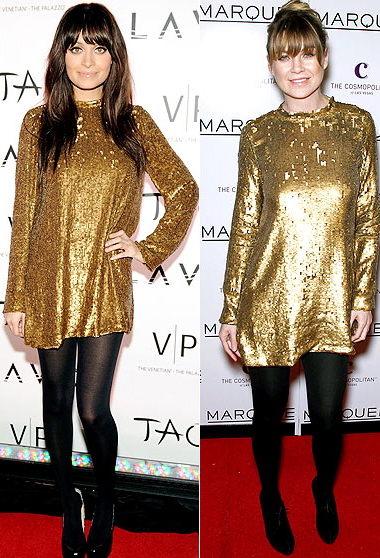 The consequence of being a celebrity who wears the same outfit as another celebrity is being judged as to who wore it best. It's rare for two celebs to wear the same outfit if it's by a high-end designer like Chanel or Christian Dior. However, when celebs like Stephanie Pratt constantly wear brands like French Connection -which is less expensive and more commercial- it is more likely for them to be in US Magazine's "who wore it best" section.
When I look at the "who wore it best" pages in magazines -which is one of my favorite sections-, sometimes one celeb looks amazing while the other doesn't, neither look good or both look great. As you can see above, author, designer, and reality star Nicole Richie and Greys Anatomy star Ellen Pompeo, dresses are styled quite similarly. First of all, I love this Winter Kate -Nicole Richie's clothing line- dress. The dress is slenderizing, glamorous, fun, sophisticated, and unnoticeably sexy. Why unnoticeably? Because you can't see it: the dress features a low draped back. It's the perfect combination of sophistication and sexy, and is great for a party for those of us who aren't on the red carpet yet.
I think that the metallic mini is flattering on both Nicole and Ellen, but I think Nicole pulled the dress off the best. It was smart for Nicole and Ellen to pair the mini with black tights since it's Winter, but Nicole made the better shoe decision. Although both wearing black, Nicole and Ellen are wearing different types of shoes: Nicole is fashioning patent leather pumps while Ellen seems to be fashioning a pair of suede tie-up booties. Since they're both on the red carpet and are wearing a dressier frock, pumps are more appropriate.
Lastly, I'm not a big fan of the way Ellen's hair is styled. Both of the celebs have bangs, but the way Ellen styled hers doesn't look as good. If you're going to put your hair up in a bun, I think it should have either a fully pulled back look, or a fully laid back/messier look. Ellen seems to have a combination of both in her hair style, but I just don't think it works, especially with this dress. Ellen should have put all of her hair up, or kept all of her hair down: down would have been sexier.
Who do you think wore this dress best? Vote!