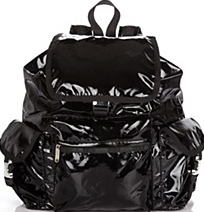 Not only is beauty pain, but fashion is too. Have you ever woke up with a sore neck from carrying a heavy bag on your shoulder? If you have, you know it's not fun. On each week day, I carry a black patent leather with silver hardware and an orange zipper shoulder bag that I bought at Galeries Lafayette in Paris last year. The bag holds my laptop, notebooks, pencil case, iPod, my daily necessities, binders, plus more. The bag has gone everywhere with me from school, to work, and even to the Middle East. It's been a perfect bag for me until it has caused my neck to constantly hurt. A backpack might unfortunately be the only solution for me.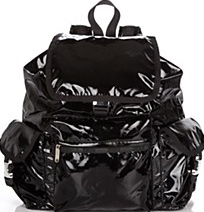 If you're one of those girls who wants a fashionable and affordable backpack, then LeSportsac should be your next shopping destination. LeSportsac comes out with great looking (most of the time) and light backpacks that are perfect for the girl who wants a balance on her shoulders with a fashionable look. Backpacks might seem "uncool", -believe me I'm not a huge fan of them myself- but when you find the right color, shape, and pattern, you'll find that perfect Style Solution for you.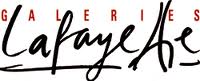 LeSportsac came out with a "Voyager Backpack" in patent nylon that is perfect for daytime glam. The nylon looks like patent leather which is perfect because you're fashioning a backpack that is chic yet not painful. The backpack has double shoulder straps for support, a front zip pocket for lets say your iPod, a inner pocket for your cellphone, and side pockets for your other necessities. The backpack is spacious and will fit everything you need for your busy work week and travel scheduele.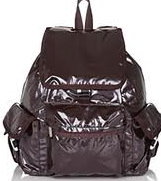 The backpack not only comes in black, but in graphite shimmer and aubergine too. The aubergine is my second favorite. The graphite shimmer is a little too much and looks a bit tacky. The black is trendy and will match with everything. The aubergine has a similar effect, just in a a slightly less common color. So that pencil case that I said I carry around above is actually the matching case to the black voyager backpack. I love it because it's small yet fits all my pencils and pens that I need and definitely has a bold look.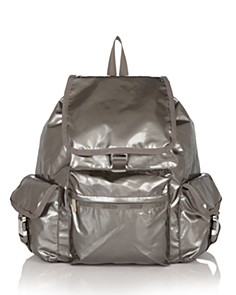 The backpack is available for $120 on Bloomingdales.com: any weight being lifted off your shoulder is a plus.