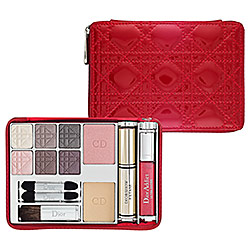 It's the Holiday season, so you want to look your best. This is the time of year to get glitzy and glamorous and dress to perfection. Part of making the perfect outfit is to pair it with fabulous makeup. Luckily, makeup companies like MAC, Trish McEvoy, and Christian Dior come out with limited-edition Holiday collections to bring out our beauty each season.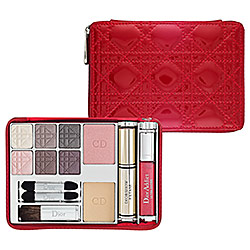 Christian Dior is one of my favorite makeup companies. I have a bunch of limited edition makeup collectibles, and they are so fun to look at. I live in the Dior Show mascara – which gives me the ultimate long eyelashes- and Natural Glow foundation that gives my face a natural glow – how ironic. (just to name a few). Out of all of the 2010 Holiday makeup collections, I think the Christian Dior one is the best.
Dior just came out with a limited addition makeup pallet that defines the ultimate collection: efficient application and beautiful colors. You want to look bright and glamorous, and you'll find that with the 6 eyeshadows that come in the pallet which (as said on Sephora.com) range from a pearlescent white highlighter to a smoky gray: the colors definitely follow the Fall and Winter trends. Also in this adorable pallet is a mini Dior Show mascara (love), a mini pink Ultra Gloss (you'll get that glossy lip), a medium pressed powder, a pink powder blush, and an inside mirror which gives you the ability to put on your makeup and look fabulous at any given time and place.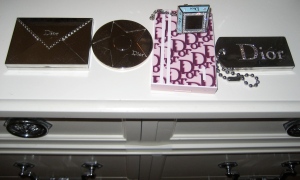 Did I mention the chic packaging? This exquisite set of makeup comes in a sleek red patent cannage case which looks like the Princess Diana signature Dior purse pattern. The set is sold for $75 which is a great deal (look how much you're getting!) and is perfect for any woman. Check it out on Sephora.com