OMG. It's day 3 of my holiday gift guide, which means more present suggestions. I love getting pieces of jewelry for the holidays because I wouldn't necessarily buy jewelry for myself. It doesn't have to be a $750 David Yurman ring, but it can be a costume one by Rachel Zoe. The best presents don't always need to come in a big box (with the exception of a designer handbag, of course). Like the old saying, good things come in small packages.

My style icon Rachel Zoe just came out with a 'Floral Pave Lace Ring' that is an adorable holiday present. I love rings that make a statement and have enough "personality" that I wouldn't necessarily need to wear other pieces. This 'Floral Pave Lace Ring' does just that. Coming in three colors – black, golden brown, and green – this ring is a great addition to your jewelry box and will give your outfits some extra glam. Don't worry about needing to wear other jewels, because this ring is big enough that it will be your statement piece.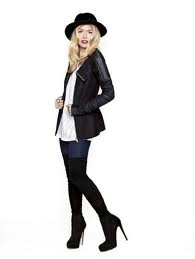 If you want a gold ring I would say go for the green because it's fun, different, and chic. If you want a silver ring, go for the black one -not only because it is the only silver one- because it will give you a more sophisticated and classy look: it will also become one of your basics.

Bold and gorgeous, this is a perfect gift and a want. Rachel Zoe not only knows how to demonstrate the trends, but design them. The ring is $88.50 and is available on QVC.com