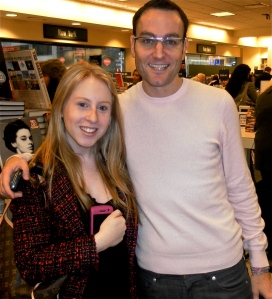 While waiting impatiently to meet the Kardashians, I noticed a familiar face, and I pin-pointed who it was instantly. If you're a Millionaire Matchmaker fan, you know exactly who I'm talking about: the outgoing, effortlessly chic, and Botox-loving millionaire, David Yontef.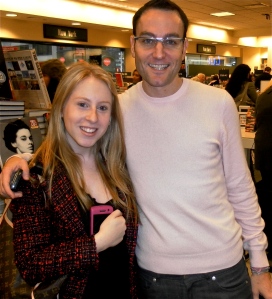 David informed me that his episode is the highest rated (so far) in all of the Millionaire Matchmaker shows-such a funny episode! Pretty great, right? Maybe it's because Patti Stanger brought in a make-up specialist from Saturday Night Live to transform David into a physically gross person. Patti did this because she was concerned that David judges potential men based on physical appearance first. Patti wanted David to start accepting people for their inner qualities.
Although Millionaire Matchmaker is one of my favorite shows, (I'm obsessed with Patti's appalling yet totally entertaining behavior) Patti definitely makes these millionaires seem different then they are in real life. In person, David was a cool, nice, funny, fashionable guy, yet those great qualities weren't portrayed as much on the show.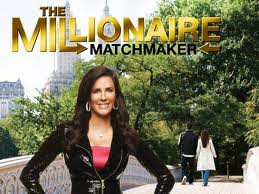 At the Kardashian book apperance, David fashioned an effortlessly chic outfit: a baby pink cashmere sweater, dark gray jeans, his signature eye-glasses, a Louis Vuitton key pouch (I had a Louis Vuitton bag on, so we kind of matched), and to top it off, (which I loved) a mixture of pink and gray Silly Bandz which gave the outfit some playful fun.
It was great meeting David, and his personality definitely comes out not only through conversation, but from his outfits as well. Check out the Millionaire Matchmaker on Tuesdays at 9:00 pm Eastern on Bravo.