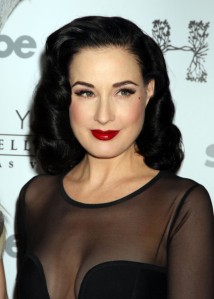 Burlesque dancer, model, designer, and actress, Dita Von Teese is a driven and successful femme of many talents. From the beginning of her career as a burlesque dancer and her tips for finding the perfect corset to her friendship with Christian Louboutin and more, indulge in part I of Dita's story .
S: Your born name is Heather Renée Sweet. Where did you come up with your current name, and what made you want to change?
D: Well, I was working in a strip club in the early 90's and naturally, I used a stage name. At that time when I started, I was really into the silent film era, and I had just seen a film with an actress called Dita Parlo, so I used that name on a whim. Then a few years later, around 1994, I was still dancing, but I was becoming quite known for my pinup photos, and I posed for Playboy the first time. The editor told me I had to have a full name, so I found this name "Von Treese" in the phone book and they misprinted it "Von Teese." The creation of a name was all part of the big Hollywood makeover, which I love, you know. But I had no idea it would be a name I would go on to use all these years later, globally trademarked and all. I might have done things differently if I had ever thought it was going to stick. I was just a 20 year old girl working in a strip joint with a peach flavored wine-cooler in one hand and a telephone book in the other.
S: How did your career as a burlesque dancer begin?
D: I was obsessed with films from the 30's and 40's from a young age, and when I was a teenager, I was working in a lingerie store, so I became very interested in the history of lingerie and began collecting vintage lingerie and clothes. When I was 18, I wanted to be photographed in pinup style for my boyfriend. I started recreating vintage style pinup photos, which became a hobby for me, and then little by little a career. I always wanted to know the complete history of everything I loved. It wasn't until I really started learning more about the history of striptease that I learned of this word "burlesque" and even then it wasn't important to me to call myself a "burlesque dancer." That was just even more confusing to people! Now, I usually still cut to the chase and say I'm a stripper so I don't have to explain what burlesque is, mainly because I feel a bit silly explaining it all.
S: What are some tips for finding the perfect corset?
D: The ideal is to have it custom-made in order to get the perfect fit. I have mine tailor-made so that I can specify everything from style to fabric and even where I like it tighter and where I like it looser. All of my corsets come from either Dark Garden Corsetry in San Francisco or Mr. Pearl in Paris. Mr. Pearl is responsible for all the haute couture corsets. No one can do what he does; all the great designers call on him to create the most complicated corsetry.
S: What is it about Louboutins that you love, and what are some of your favorite pairs?
D: Christian is one of my very closest friends, and not only is he a genius, but he's one of the most lovable, funny and charismatic people I've ever known. My favorite pair are the ones he has custom-designed for my stage shows, because no one in the world has the same ones. He usually makes two to three pairs for each act, each pair has different heel heights, or small differences in the way they can be removed. I'm very, very lucky and spoiled to have him as a friend, both for keeping me well-heeled and also because he's so lovely to be around.