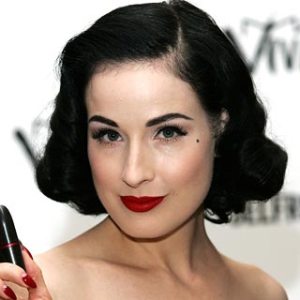 Indulge in part II of my interview with Dita Von Teese, who gives Style Solutions the scoop on her latest design ventures, fascinating collections, a Style Solutions tip Twitter-style, and more.
S: Tell me about your dress capsule collection, available at Decades in LA!
D: It's comprised of five pieces and are all based on pieces in my vintage collection that I believe are timeless. I have also made them more wearable by changing little things like necklines and making them out of the best quality fabrics. We're doing these in plus sizes too. It's really about classic glamour that doesn't fade with time.
S: How was the process of creating your own perfume?
D: Like a dream come true! Fragrance is one of the most powerful tools of seduction; it strikes directly to the source of emotion in the brain, so one's choice of perfume is important. I wear different perfumes for different moods, and even for my different facets of style. I really wanted to create a scent that I can wear all the time, conveys womanly elegance and sensuality, and is about the essence of who I am. The perfume is available in Liberty in London, Boots London this fall, and the US soon too.
S: What's the scoop on your lingerie collection?
D: For my Von Follies Lingerie collection, I was inspired by vintage pieces in my collection and photos of lingerie from my archives of vintage books and magazines. I've had a longtime obsession with these 50s era "over-wire" bras, something that's been quite a task to create and modernize, but the end result is so chic and unique. I'm also very happy with the beautiful panties we've made, I can't wait to have them in my lingerie drawer! Size range was one of the first things I asked when I was approached by Lime Door Brands to create this collection, and I was thrilled that they agreed.
S: You have an iconic Twitter page. A Style Solutions tip that you'd Tweet, please!
D: I like to encourage women to find their own personal style and stick to it rather than trying to keep up with trends or coveting someone else's look. The truly stylish woman can appreciate the style of others, but she knows her body and herself well enough to invest in key pieces that suit her rather than trying to buy the latest thing. I think that's too long for a tweet though, isn't it?!
S: Over 140 characters, but worth every word! Do you collect anything?
D: I collect lots of things. Taxidermy (I have a full size ostrich in my living room), a few vintage cars, and pinup art from the 40's.
S: What do you want to be for Halloween this year?
D: I usually go as a "normal girl" and wear beige lipgloss, a blonde wig, a tan, and jeans. But this year, I'm performing my full length revue Strip Strip Hooray! in NYC at The Gramercy Theater, so I doubt I'll feel like dressing up after all those costume changes!
S: What's next in the world of Dita?
D: I'm putting the finishing touches on my beauty book which comes out early next year, but my Strip Strip Hooray! show is really my main focus for the next year, along with my brands, of course!