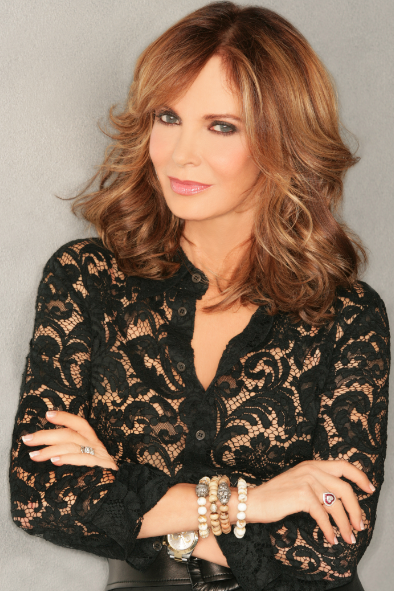 Actress and businesswoman Jaclyn Smith has put a major stamp on more than one industry. She is best known as Kelly Garrett in Charlie's Angels, and was the only female lead to remain with the series for the 5 year run. The '80s marked Jaclyn's start into developing and marketing her own brands of clothing and beauty products, and to this day, she is unstoppable.
S: What was it like to play a detective on Charlie's Angels during a time when only men held that job?
J: There were three women as leads in a series which was a first at that time. A time that was really male dominated. It empowered women and showed them in a very positive light. We were emotionally and financially independent. The best thing was the bond between the girls.
S: What do you think of Charlie's Angels, the movie?
J: I saw the first one and did a cameo in the second. I thought they were just great! The film took another dimension in terms of being female super heroes with action and stunts. I think that the girls were terrific. I love Drew!
S: Tell me about being a Breck Girl.
J: Breck was early on in my commercial career. It landed me my first starring roll in the television series McCloud starring opposite Dennis Weaver. From a young girl I loved the Breck pastel ads in the magazines and was so excited to actually become one of them.
S: Weren't you the first celebrity to develop a brand?
J: Yes I was. I was under contract to Max Factor at the time when Kmart approached me. Max Factor did not believe that was my customer, however, after I took my first meeting with Kmart, I was sold. It was one of the best career decisions I have made. My philosophy is to give my customers fashionable but affordable apparel and home furnishings. Value has been the hallmark of my line. Kmart generously donates a percentage of profits to breast cancer research, a cause near and dear to me as I am a breast cancer survivor myself. They are a morally conscience company which I am proud to be associated with.
S: Let's chat about your personal style!
J: I tend to be very classic in my choices. I think with classics your wardrobe becomes timeless. I love interchangeable separates that allow you to build a wardrobe. With separates you can put together many different looks so your money and wardrobe go further. That is my philosophy for my line at Kmart.
S: You would fit in perfectly in New York!
J: You see all styles of fashion in New York. There is something for everyone. On every corner there is an individual. I have always thought that fashion is temporary and inate style is forever. I see it in New York; there is such life in the city and I love it there.
S: What are you enjoying on TV circa now?
J: I love SMASH-the songs, the dance, New York City, everything. I'm a fan of CSI and have had the opportunity to work on that show. Love Grey's Anatomy, will always be loyal to that show.
S: What are you working on now?
J: My brand is on going day in and day out. My husband created a skincare line for me and it's his baby. I also have a wig line with Paula Young which I am quite proud of for it's quality and style, as well as a fabric line with Trend at Fabricut and of course my apparel and home collection at Kmart that can been found through jaclynsmith.com.