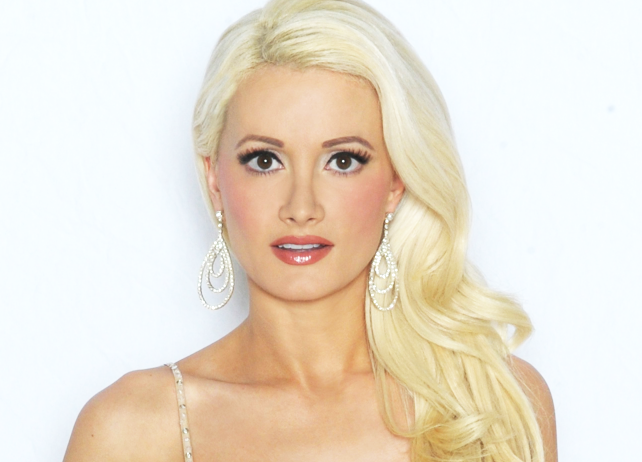 This blonde beauty is more than just The Girl Next Door! From her burlesque show, Peepshow, and Disney-themed Vegas home to her personal style and more, Holly Madison has lots to share with Style Solutions. Dive in!
S: How's Peepshow going?
H: I absolutely love working with the cast, crew and creative team; it's been a wonderful learning experience. I recently learned to sing, so I sing in the show now!
S: What was the transformation like from being on The Girls Next Door to going off on your own?
H: It was kind of a rocky road, but I knew immediately when it had to happen. When you make a drastic change in your life like that, you learn really quickly who your true friends are. I wasn't guaranteed anything when I left, I just had a bunch of dreams I knew I needed to follow. I believed so strongly that I accomplished all the goals I had for myself when I left Girls Next Door almost 4 years ago. Now it's time to make new goals!
S: How was working as Playboy's Photo Editor?
H: Oh my gosh, I learned so much technically from the photographers! But most importantly, it taught me to lose all the immature jealousy women carry towards one another. I was always on the lookout for a variety of beautiful women; it was my job to make them look their best with the help of the hair and makeup artists, stylists and photographers. When that's your job and motivation, you learn to appreciate people quickly and value what is unique about yourself.
S: Your name was the most searched on Yahoo.com several times. Impressive!
H: In a way it's flattering, but in another way it's scary! God knows what comes up when someone does an internet search on my name; probably a lot of untrue crap along with old embarrassing things I would love to have swept under the rug!
S: What are 3 of the coolest features in your home?
H: I have stained-glass windows in my living room that were modeled after the opening stained-glass style images in Beauty and The Beast. I tracked down the company that makes the wallpaper used in the Haunted Mansion's entryway and put it in my dining room, and I had a bed made for one of my guest rooms that looks like the one in the Captain's Quarter's scene in the Pirates of the Caribbean ride.
S: How do you dress for everyday?
H: How I dress everyday, or how I would like to dress everyday? [laughs]. When I'm in Vegas during the day before my shows (if I don't have anything special going on), I must admit, I look like a scrub. I throw on the most comfortable thing I can find; something black if it's Spray Tan Day, so I can get out of bed and get as many things done as quickly as possible. If I'm going to meet friends or have an event during the day, I usually wear a medium length, feminine, bright colored dress and Christian Louboutin heels or Repetto ballet flats. I usually have a small, 50's style cardigan sweater with me because I get cold easily.
S: What are some of your favorite Vegas hangouts?
H: I love exploring downtown Las Vegas-it's gritty and kitsch at the same time. The Golden Nugget has the best pool; you can ride a water slide that goes through a shark tank!
S: Where's one place around the world that you'd love to visit?
H: I'd love to go to Disneyland in Hong Kong because it's the only Disney park in the world that I have not visited.
S: What's up and coming for you?
H: First, I have a signature pet line coming out–durable and fashionable toys and leashes, cute dog outfits, beds and even dog treats. I'm also developing a new TV show about a clothing company I'm working with and hopefully can debut a clothing and shoe line with them!
S: Have you ever had one of those 'What happens in Vegas stays in Vegas' moments?
H: If I did, I couldn't tell you, now could I?